Yesterday was an exciting day! I got a call telling me I could pick up the keys to the new place a day early and I took the real estate agent up on that offer immediately!
Seeing the new place was such a relief. I had been harbouring a ton of fears that I had signed up for a pricier place to live that wasn't actually any nicer than where I am now. Because I looked at this place for fun, and put in an application on a whim, I had no real memory of what the house actually looked like inside. I was terrified that I'd open the front door and think, "I don't want to live here."
Luckily, that couldn't be more wrong! When I walked into the house yesterday I felt so happy! The spare room is much bigger than I remembered, as is the kitchen, the bathroom and the sunroom. The main bedroom has huge closets that I didn't notice during the inspection, and the backyard is twice the size that I thought it was. In a word, it really is fantastic!
I spent most of the evening last night cleaning the kitchen with a scrubber sponge and hospital-grade disinfectant. Though the carpets were professionally steam cleaned and the window panes (there are SO many windows!) were too, the rest of the cleaning effort leaves a lot to be desired. Things that I would clean during a normal weekend tidy up (think the underside of cupboards that get food splashed on them, the dust on the windowsills, etc) were left untouched- or at least not given much attention. I anticipate a lot more scrubbing in my future before the place feels clean enough to me, but that is expected really- I would never move into a rental property without expecting to need to give it a good clean.
I am so, so blessed to have a small army of people helping with this move. As I've mentioned already, Max packed nearly all of my unit up for me while I worked on my assignment. His friends will be doing the heavy lifting. Other friends and Max's family are helping with moving the boxes of everyday items. I feel so lucky to have such a great group of people working together to help get this process done quickly and smoothly, so thank you, friends!
In other news, I was able to have a bit more of a "normal" food day today. I stuck with coffee and toast for breakfast. I was hoping to make overnight oats with fruit, but then realised that the oats are, you guessed it, packed! Coffee and toast it was.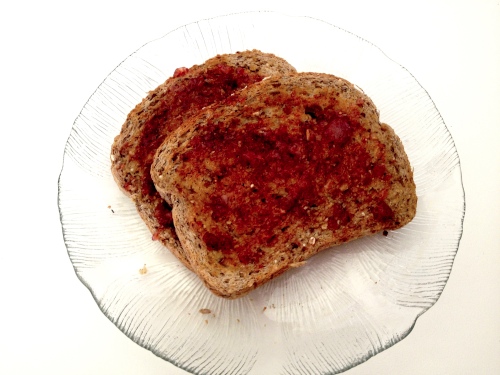 After the last few days of eating only take out food, today's burrito tasted amazing for lunch! I asked for as many vegetables as possible.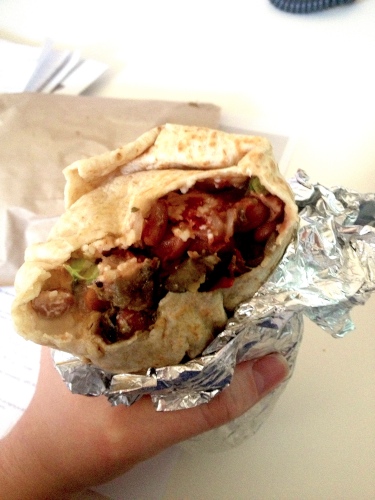 Burritos are never pretty.
Work went sooo slowly today. Since Christmas is coming so quickly, I don't have all that much left to finish up before the holidays. The work day goes so much slower when you are struggling to find things to do!
As soon as work was finished I went straight to the new house to get some cleaning done. I knew that Max and co would start showing up with boxes around 6pm, so I had about an hour and half to make sure there were nice, clean places to put away the contents. I managed to finish the kitchen and most of the bedroom cupboards/closet surfaces, which was a big relief.
At that point, people started showing up with boxes, so I got out of their way and worked on the bathroom. The previous occupants hadn't bothered to clean the soap scum off the shower door or the grime out of the grout, so I spent a chunk of time on that.
Now we are surrounded by boxes in a half-clean house, feasting on pizza and beer which we provided as a 'thank you' for our friends' help. I'll be super ready for bed tonight- I'm absolutely exhausted. Hopefully I can get some pictures of the new place for you soon!