I wrote this post yesterday, but since our new place doesn't have internet yet, I'm posting it today!
~~~~~~~
Hello! I was incommunicado yesterday, despite my best intentions to get a post up with pictures of the new place.  Sadly, I'm not even sure if I will get many up in this post- the house is a gigantic mess.  On a positive note, I slept in the new house last night for the first time and had a GREAT sleep! Of course, the fact that I worked a half day at the office before cleaning and moving boxes/furniture from noon until midnight might have had something to do with my deep sleep!
Here is one tiny example of the cleaning that is needed at the new place.  This is part of an air vent that I spent over an hour cleaning yesterday.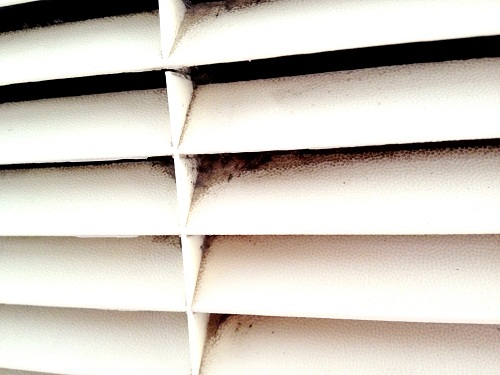 The dirty part in the corner is what the whole vent looked like until I cleaned it.  Seriously, how could you have something that filthy in your house and never feel the need to clean it??
On the upside, I did get to see this beautiful rainbow from my new back yard last night.
I tried to capture both halves but I didn't line it up very well! It was actually a double, but I couldn't capture the faint second bow with my phone camera.
Max's parents came by the new place last night with dinner for Max and me and all of the friends who have been helping.  It was a lovely gesture and much appreciated.  I even had enough leftover for lunch at work today.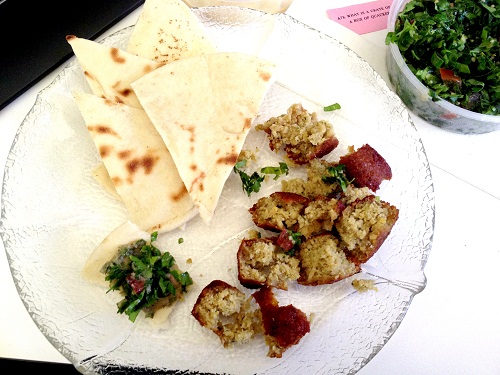 Pita with falafel, hummus, babaghanoush and tabouleh.  Greek food is my favourite!
After work (it's so quiet at the office- everyone's gone for Christmas!) I headed to the old unit to do some cleaning.  I worked on the air conditioner and shower fans/vents and some of the grout in the kitchen and bathroom that needed special attention.  After a few hours there,  Max came to meet me and we headed back to the new place to try and clean up the box situation. It feels like utter chaos, and I am utterly exhausted.  But also so pleased to have this wonderful new home and so much help along the way! One thing's for sure: moving is a great calorie burner.  Check out my burn over the last couple days:
I had to do some baking this evening for tomorrow's Christmas breakfast at my work. It was weird using my gas oven for hte first time- I wasn't usre how it would heat and cook, but I think everyhting turned out ok.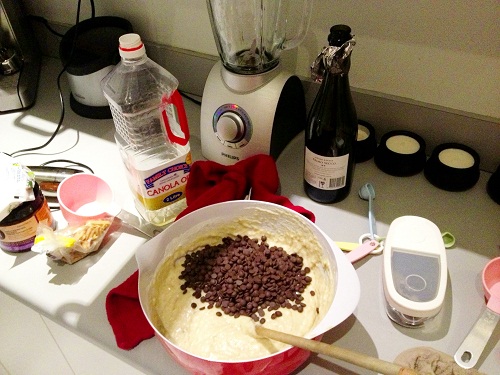 And now I'm off to bed because I can't keep my eyes open. I hope your pre-Christmas week is going well- are you stressed, or calm and collected?