Hello and Happy New Year! I finally have internet access again at home, and can't wait to get back to blogging regularly! It's been frustrating having so many great experiences and photos from the holidays and not being able to get them up online and share them.
I was actually sick through all of Christmas and New Years, which meant that I kept to a pretty low-key schedule and stayed home for a lot of the holidays. I went to work today, but came home early due to my horrible cough and not feeling well still- this illness has lasted over 10 days! That's a lot for me, as usually if I'm feeling sick I drink a few green smoothies and nip whatever's niggling me in the bud.
Anyway, I blame my sickness of the exhaustion that comes with moving, submitting an assignment, partying a little too hard, and general Christmas stress, including hours and hours of baking and cooking. I love the holidays, but I'm glad to be back to a normal schedule these days.
Adelaide is starting its first real heatwave of summer.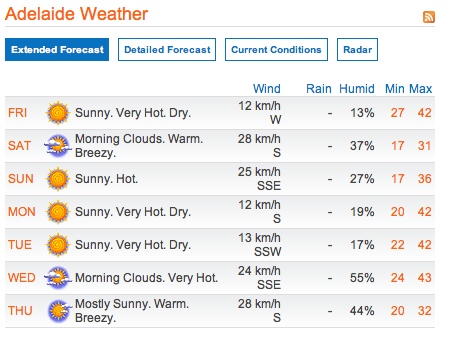 Today is 39 degrees (102 F) and the next five days are forecast to all be around 42 degrees (108 F), so things will be heating up in these parts! My new house doesn't have air-conditioning, so I'm hoping to keep a bunch of fans going and make giant jugs of iced tea as a coping mechanism.
I haven't been doing any exercise over the break (see: debilitating sickness), and I gained about 3 pounds. That is really frustrating, but I'm looking forward to getting back into a good routine once my cough clears up. Good thing the gym is air-conditioned!
I know everyone is doing goodbye to 2012/2013 resolutions posts, but I'm not quite there yet. I will probably work on getting some goals thought out and typed up in the next few days, but for the moment I am just enjoying the fact that I'm online again and madly trying to catch up on uni reading and discussion.
I'll leave you with a few photos of what I've been eating on holiday. I have absolutely loved being at home during the day to make healthy and delicious meals. There have been a lot of smoothies, fruit, and salads…yum! Summer fare at its finest.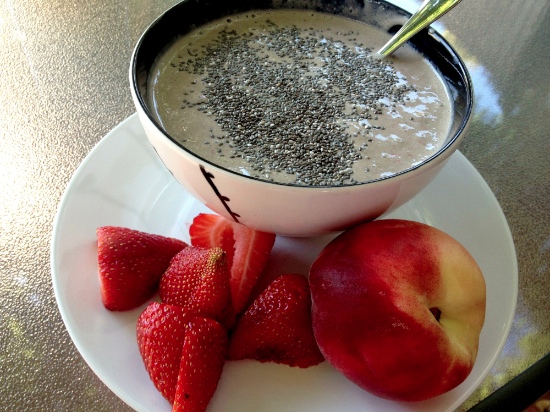 Smoothie (spinach, soy milk, strawberries, raspberries) with chia seeds, strawberries, white peach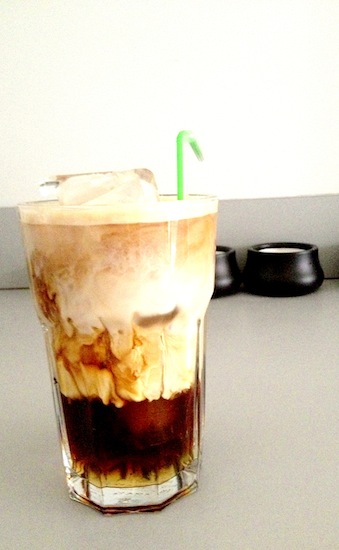 Homemade iced coffee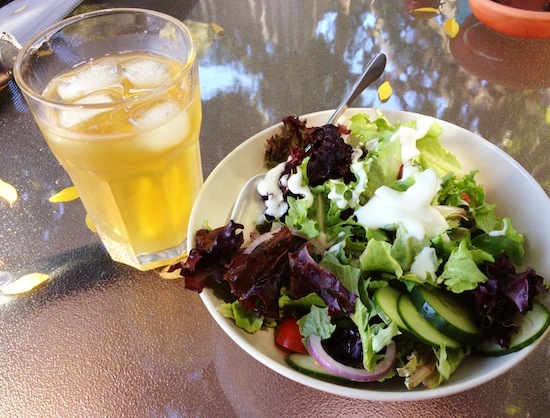 Homemade iced tea, summer salad
I hope you're enjoying some fresh local food as this new year begins! I'll be back soon with more updates- glad to be online again!