Yesterday I mentioned that Adelaide is going through a heat wave, and I couldn't have been more wrong…we're going through a heat tsunami! It is 44 degrees here today (that's 111 Fahrenheit) and I am roasting! With no aircon in the house,  I'm sitting in front of a fan that's whirring on full blast while I try to catch up on uni work and reading.  Whew!
Given that it's so warm, I was pretty excited that my friends at nudie sent me a few flavours of their newest beverage, called Wonder Winnie, to try. Since nudie is known for creating natural bottled juices, I was half-expecting to be looking at a box of juices when the Wonder Winnies arrived on my doorstep, but instead I found a low-calorie water-based quencher that's naturally sweetened with stevia.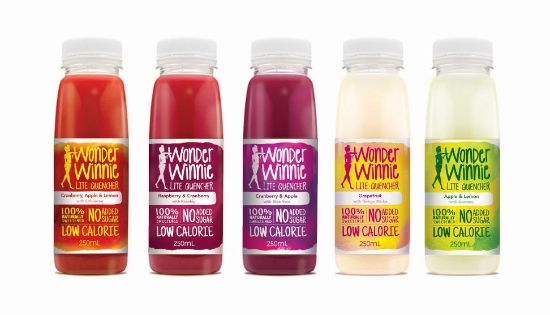 If you can't read the bottles, the flavours are:
Cranberry and Apple with Aloe Vera
Grapefruit with Gingko Biloba
Lemon and Apple with Guarana
Cranberry, Apple and Lemon with Echinacea
Cranberry and Raspberry with Rosehip
Each flavour has only around 5-10 calories per bottle.  I love juice but don't love how a half-cup serving can pack over 100 calories, so I really liked how low in calories these are.
The first flavour I tried was the Cranberry and Raspberry with Rosehip.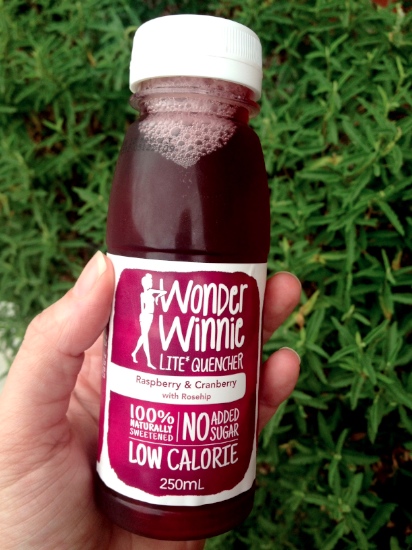 This wasn't my favourite (I found the flavours with cranberry a bit too concentrated) but I quickly moved on to the other flavours and can definitely say that I loved the Lemon and Apple with Guarana.  It tasted like a lighter version of lemonade and was super refreshing.  (I didn't receive the  Grapefruit with Gingko Biloba flavour, but I have a feeling that if I tried that one, it would probably have been up there in the rankings, too).
The verdict: I'd buy Wonder Winnie with my own money, especially in the summertime- they are light, refreshing, and fantastic ice cold on a hot day like today.  I'd just steer away from the cranberry flavours, personally.
Would you like to try Wonder Winnie for yourself? The good folks at nudie have kindly offered to send one lucky reader a pack of six Wonder Winnie quenchers in assorted flavours, just in time to help you beat the summer heat! To enter, simply leave a comment on this post telling me how you like to stay cool when the temperature climbs. (Australian residents only, please!)
In other news, Max and I went to Parisi's for dinner last night.  Parisi's is a restaurant on King William Road that has an excellent reputation for high-quality Italian food, and I just so happen to live nearly right behind it now that I've moved.  In fact, on some evenings when I'm out in the backyard, the scent of their food wafts into my garden and I get insanely hungry, so I knew I had to eat there asap and try it.
The restaurant itself is small, classy, and well laid out.  There's an indoor eating area, a couple of small tables out the front, and a covered courtyard on the side.  We choose to sit in the courtyard and were seated by Simone, one of the owners.  She was super friendly, and when she learned how close home is, she asked our names so that she could "learn who the neighbours are".
We decided to skip any starters (though there were plenty on the menu and they looked fantastic!) and stick to just mains and sides.  I chose a small Pizza Zucco, which came with mushrooms, olives, feta, spinach, onions and crushed pistachios.
Max had a pizza featuring ham, mushrooms, caramelised onions and truffle oil. We also ordered a house salad and steamed broccolini with almonds to share.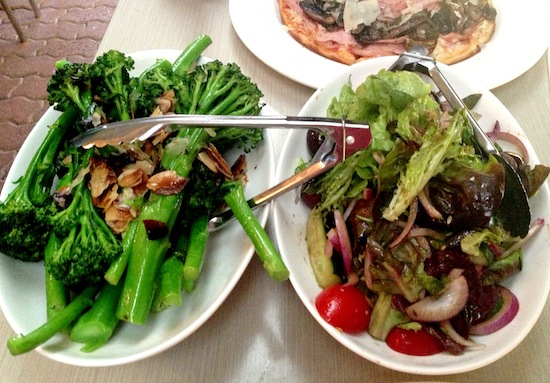 The food was wonderful- fresh, flavourful and light.  The only cheese on my pizza was the crumbled bits of feta, which made the pizza much less greasy than mozzarella would.  The veggie sides were huge and tasty and gave us a great excuse to fill up on greens.
Overall, I loved my first visit to Parisi's.  The only tiny problems we had were that at the end of the meal it took a long time to get our bill, and the potato pizza that I originally ordered wasn't available. As far as food and friendly staff went, however, I have no complaints! I'm hoping Parisi's becomes my new local. If you're in Adelaide, I highly recommend heading there for dinner sometime soon!
Are you a "local" anywhere where everybody knows your name?
Don't forget to enter the Wonder Winnie giveaway! It's my first giveaway ever and I'm so excited to host it! 
Disclaimer: I received free bottles of Wonder Winnie to taste test and review for the blog.  I received no other compensation for this post.