Hey guys, don't forget to enter my Wonder Winnie giveaway!
~~~~~~~~~~~~~~~~~~~
Hello and happy Monday! The weekend really flew by, but I felt like it had a good mix of fun and work, so this morning when I ventured back to the office, I felt satisfied with how I spent the last few days.
The work part of the weekend revolved around refinishing a huge sideboard! I bought this sideboard from an older lady quite awhile ago, and have been storing it at Max's parents place while finding a new place and during the actual move. Now that it has been in my new house for a week, I realised that it needed a makeover.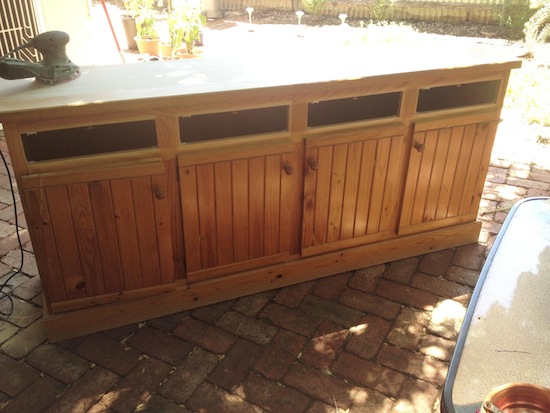 The original piece is pine, I think, and is quite lovely, but it is very old and since nothing in my house is natural wood (everything is painted and modernised), I decided to freshen it up with some white paint. So the weekend was full of sanding, priming, painting, and re-painting.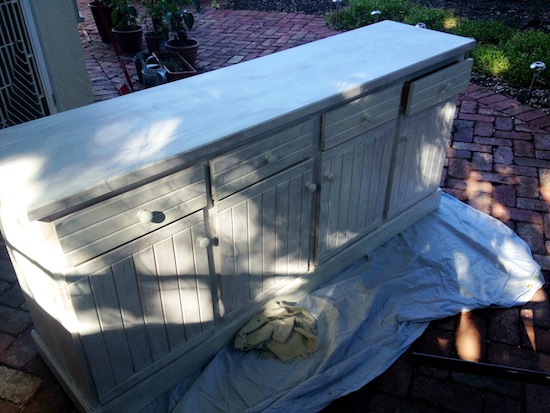 One last coat should finish it up! Very exciting- like a whole new piece of furniture.
On Saturday night I went to see Les Mis with my friend Megs. Megs won tickets to see the film in Gold Class and invited me to go along- I felt very lucky! It was my first time at a Gold Class showing and it was amazing. You enter a special section of the theatre through frosted glass doors where the staff greet you personally and have you sit down to decide what drinks and food you'd like delivered to you, and when during the film.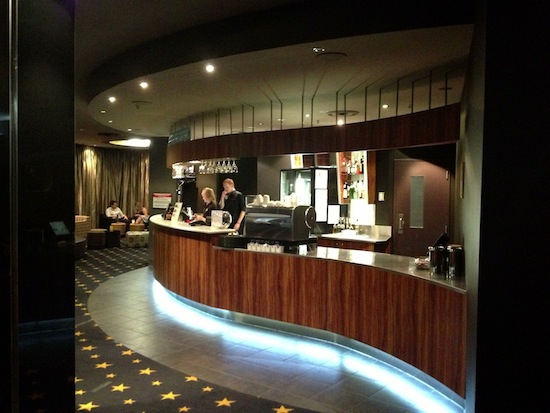 Once you've decided, they come collect you and show you to your seat in the theatre. The seats are in pairs of two with a small table between them, and have buttons on the side so you can fully recline your chair. It was absolutely amazing, and the perfect way to watch a loooong movie like Les Mis!
I loved the whole experience, and I thought the movie was really well done. I love musicals- I've seen every one I can get a ticket to, and performed in more than I can remember, so I was in musical heaven.
Before the movie, we ate at a new restaurant near my place called Stumps. I had this cous cous salad with mixed roasted vegetables and arugula/rocket on top.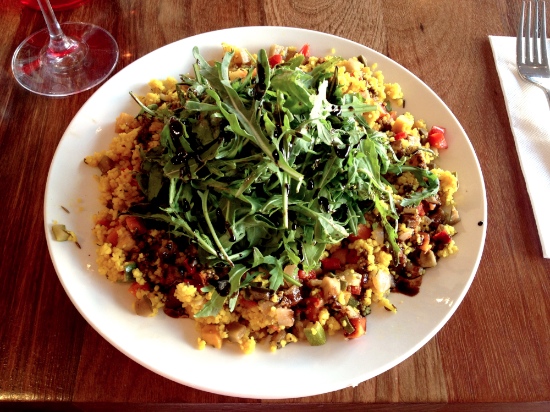 It was ok- nothing amazing but it tasted fine and filled me up. I barely had enough room for the cocktail and dessert I ordered at the theatre, but I somehow fit them in

Today has been a pretty regular day for a Monday. Work was busy in the way it normally is after a holiday- lots of emails to catch up on and little tasks that are easy but take time. I had a coffee with soy milk and a piece of toast with pb and jam for breakfast at my desk.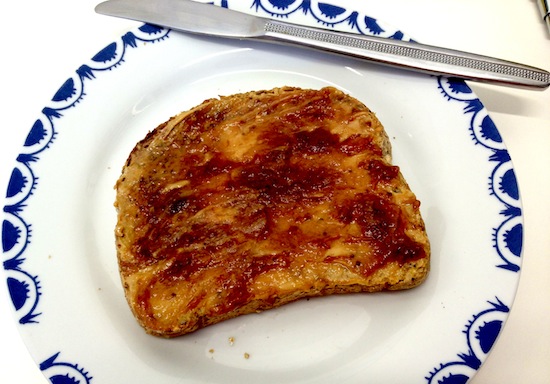 I stopped for lunch around 1pm and had a feast- a big salad with two veggie dogs on the side.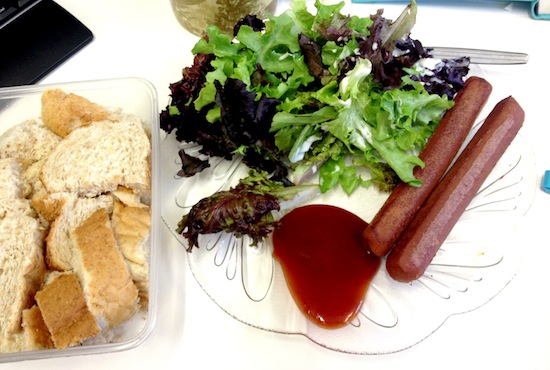 I ate the dogs in what may be the weirdest way imaginable.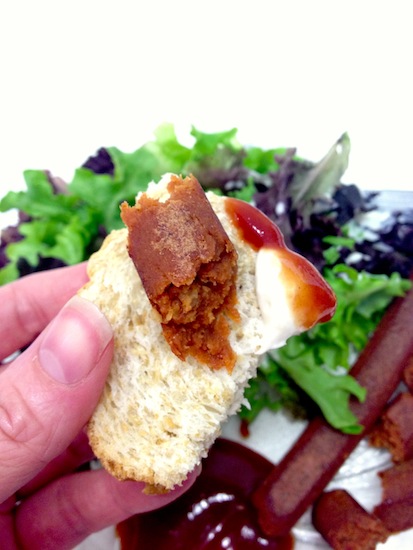 We had dips for dinner last night on a picnic with friends, and had this ripped up bread leftover. So I dipped the pieces of bread in ketchup, then placed a piece of veggie dog on it and ate it. I'm pretty sure my coworkers think I'm insane, but it was tasty!
After work I headed straight to the gym. Now that I no longer live right next door to it, I had to be prepared and pack a gym bag to take to work. I changed at the office and then drove straight to the gym, no excuses. Once there I grabbed a treadmill and took things slow for a little while to see how my cough would cope (I'm still a bit sick from before Christmas). I didn't struggle too much, so I added in a few sprints but kept it pretty low key.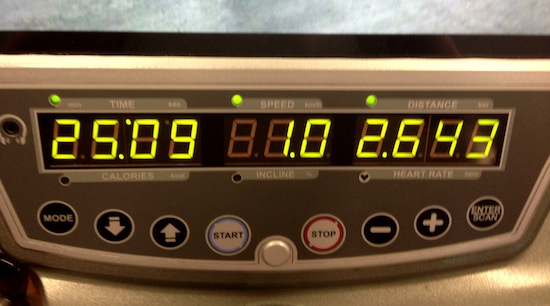 Though I remembered to pack a bag, I forgot to pack my Garmin or any other measurement tools (ie my Body Media Fit), so I don't have a lot of data for this run. I even forgot my headphones

Nevertheless, it was good to have a bit of a sweat.
After the gym I raced to the grocery store to pick up provisions for the week. Did you know that I meal plan every single week? I haven't really mentioned it on here before because I don't even think twice about it anymore, but I realised today that it might be useful for other people to know my plans, so I'll fill you in on the plan!
Monday (tonight) – pitas stuffed with veggies
Tuesday – out with friends
Wednesday – roasted vegetable quesadillas
Thursday – bbq veggie skewers and quinoa
Friday – baked potatoes with roast broccoli
I always make enough for dinner so that I have lunch leftovers the next day. I also usually cook up some tofu to eat along with my meals for the week that have less protein (so for this week, I will probably have some tofu with my Monday meal and my Friday meal).
Alright, I'd better get gong. This post is long and I have a few things I want to do before bed. See ya!