Hello!
It's been a quiet day here and I don't have much to report.  I spent the Saturday working around the house and doing uni work.  Nothing very exciting, I suppose, but I ticked off a lot of my to-do list and am feeling pretty accomplished!
Breakfast was a big bunch of grapes and an iced coffee that I ate/drank while settling in with my book.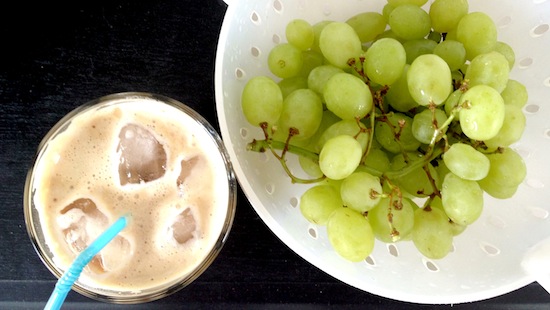 Between breakfast and dinner, I:
finished painting the dresser and its drawers
reassembled the dresser, drawers and knobs, and re-filled the set with all of my clothes
got some exercise – a 25 minute walk
read two uni lectures
read a book
tidied the house
did two loads of laundry
cleaned up the backyard (it was a mess after painting), washed down the outdoor furniture
did the dishes
did a little bit of gardening
unpacked a box leftover from moving that I found, hiding from me in the closet
organised the giveaway winner to receive her prize
made healthy food for the day and a soup to last me a few days
Like I said, nothing crazy but I feel like I got lots done.
I stopped for lunch late in the afternoon and cooked up a baked potato, topped with chopped mushrooms, green onions, mushrooms and a little sour cream.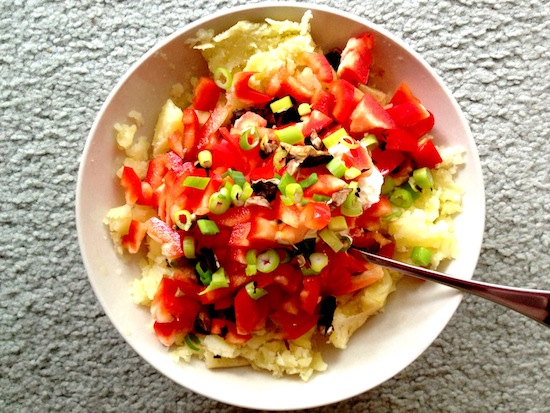 Dinner was a soup and sandwich combo of a grilled cheese and a soup I made with all the produce in the fridge that looked like it was about to go off.
That included two onions, four carrots, a head of broccoli, and a bag of mushrooms.  I added some veggie broth and about 50g of dry pasta, too, plus chilli flakes, oregano, thyme, and salt and pepper.  It was pretty good!
Now I'm taking a break from working and catching up on some blogs while enjoying this amazing Lindt hot chocolate- basically dark chocolate Lindt shavings melted into hot soy milk.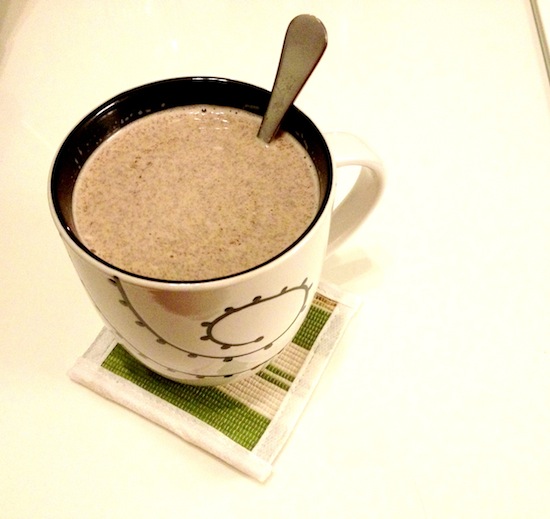 So good, and the perfect end to a busy day!
What's the most productive thing you've done today?
Edited to add:
Today's calorie totals, burn and deficit (I can't get my app to update so I'll just type it out):
Consumed: 1580
Burned: 2722
Deficit: 1142