I have a huge headache right now and I blame work.
How's that for a downer start to a blog post? I couldn't think of a positive way to spin that one, so I just went with the honest approach.  The reason I blame work for my headache this evening is because we had an 8.5 HOUR meeting today.  That is a long time to be in a meeting.  We were discussing several important issues that our team will be addressing over 2013, and I had some communications and marketing agenda items to work through the others in the group, so I really felt like I was "on" for the whole meeting.  Let's face it, most of us tend to zone out once in awhile during long meetings, and that is usually my sanity-saver, but I couldn't afford to do that today, which means that I'm now feeling sorry for myself in my headache-y state.
Anyway! Enough about that.  Suffice it to say that it was a busy day, but I did manage to sneak some photos when my coworkers weren't paying too much attention.
My morning started off with a trip to the gym.  I met my friend from work there and we did some time on the treadmill- 4.29km in just under 40 minutes.  I incorporated a lot of incline and hills into my walk today and worked up a great sweat.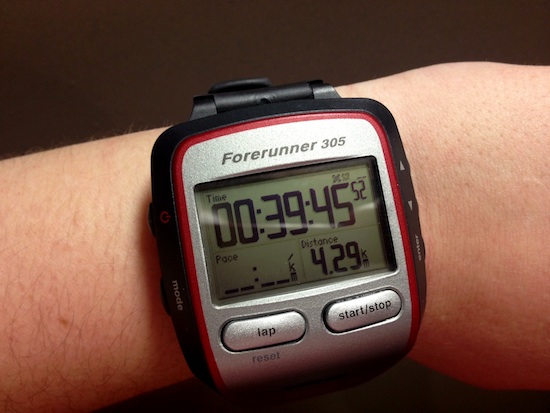 After our workout I showered, changed and went straight to work.  Before the marathon meeting started I managed to chop up an apple for breakfast and ate it with some peanut butter.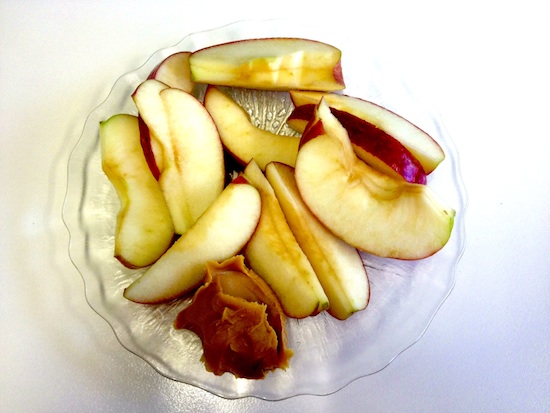 While I munched on the apple, I made myself some coffee to help me get through the morning half of the meeting. It helped a lot.
We broke for much around 1pm and I heated up some leftover soup from the weekend.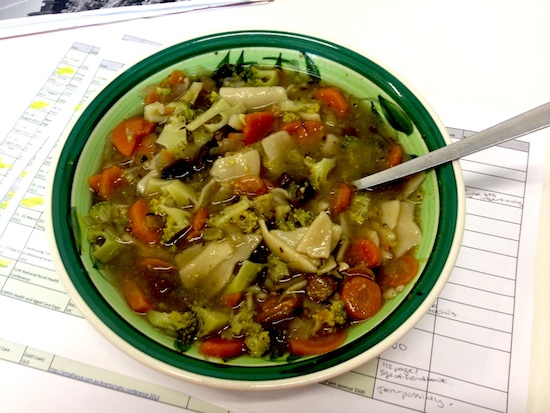 It tasted better today, I think! More flavourful and a bit spicy.  As the meeting restarted, I snacked on some vegetables and fruit that our organisation had ordered in.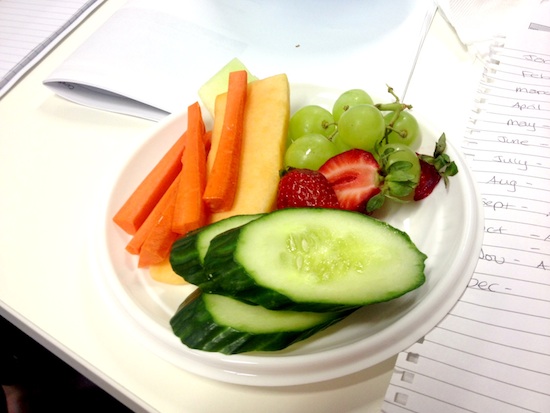 I love it when someone else cuts up and prepares fruit and veggies for me- I am so much more like to eat healthy foods when they are ready and waiting without any prep on my part.  This felt like a little luxury

This definitely wasn't enough food to get me through the day because I went straight home after we finished up and wolfed down an Arriba Grill veggie burrito.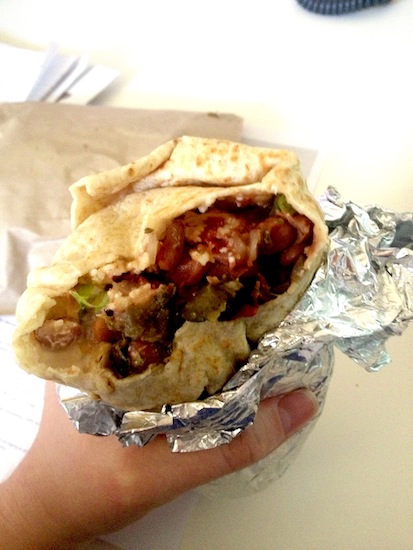 This is a recycled picture because I ate the real thing so quickly that I forget to snap a new one.  I also ate some mini sweet potato gems (like tater tots) and drank a Peroni beer, both of which suffered the same non-photo fate. Even after eating dinner, my headache is lingering, so I'm going to cut this post pretty short.
I'm hoping to do a bit of work tonight (the meeting is continuing through tomorrow), so I should probably get going on that. I hope you're feeling better than I am!
What do you think of meetings? I usually dislike them because I often feel like there is a lot of talk and time spent just to accomplish things that could be solved quickly and easily.  Efficiency seems to be sorely lacking in many meetings!
I'll update today's calorie burn, intake and deficit here tomorrow.