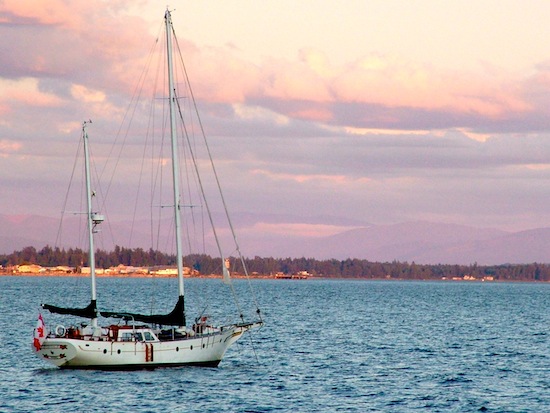 Things that made today good:
NO MEETINGS! Hooray! I feel my sanity returning.
Lots to do at work.  There's nothing like feeling productive! I hate trying to figure out stuff to keep busy with- it makes the day crawl. Didn't have to worry about that today, and I don't think I will need to for at least a few months…lots going on!
I got to talk to Max! He's in Vienna at the moment and will be flying to Germany tonight for another meeting before heading back to Austria.  From all reports he's having a great time and marking some real successes at work, which is fantastic.
I got to make my own delicious hazelnut coffee again. I ran out of grounds a couple days ago and have been relying on others' charity, so have been limited to plain coffee, but I went shopping last night and picked up some more of my morning treat.  Love that extra bit of flavour!
I was able to listen to an acquaintance talk about her grief and helplessness at her husband being diagnosed with cancer.  They are estimating he'll live 6-12 months more.  I know this sounds like a weird thing to put on a "good" list, but when I was listening to her I got the feeling that she didn't have many people to talk to about her feelings and the situation.  I was glad to be able to provide a listening, sympathetic ear.
I think it's important to take some time every once in awhile to think about the things in our day that have enriched our lives, don't you?
On top of those things above, today was a good day. I started off at the gym for a quick workout.  Quick because I slept in…oops! I wasn't meeting anyone there this morning, which made it harder to motivate myself out of bed, but I still managed to spend some time doing intervals on the treadmill before doing some lower body weights as part of Project Prevent Pain.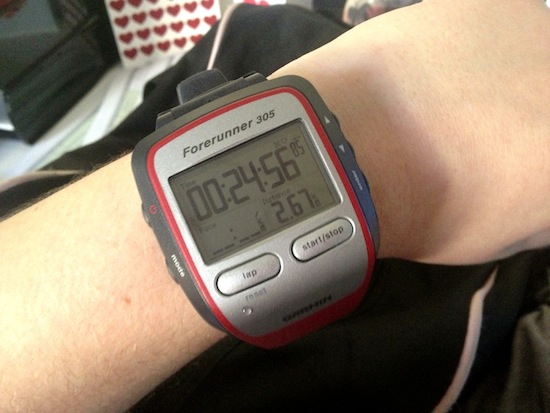 Once at work, I made my beloved coffee and drank it alongside a really delicious piece of toast with peanut butter and a really undelicious peach.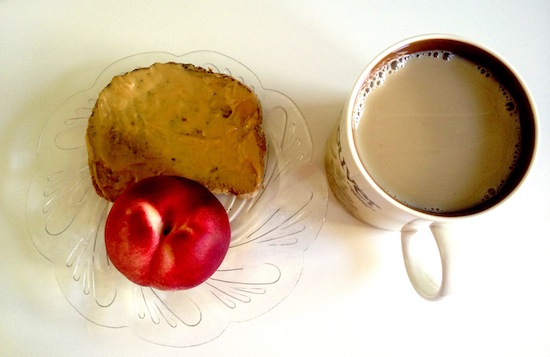 Looks good, tasted awful.  Actually, it didn't really taste like anything, just hard and fleshy. Bleh.
Things were looking up by lunch time though! I made a soup and salad combo.  This was the last of my soup that I made on the weekend, plus a nice, big, fresh salad.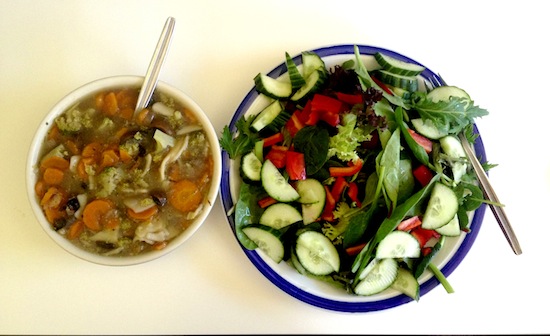 In the soup: carrots, onion, broccoli, pasta, mushrooms.  In the salad: spinach, mixed baby greens, cucumber, red pepper. After the photo I added some Caesar dressing.
I solved a few minor crises in the afternoon, which naturally made me hungry

I had some grapes.
And then it was home time!
Dinner tonight wasn't great- I grabbed a few slices of frozen pizza and ate them in the car on the way to an appointment. Not the ideal option but that's what happens when I don't plan ahead! I was actually planning to make tofu wraps tonight but I'd forgotten about my appointment and had to alter the agenda.
Let's quickly take a look at yesterday's final calorie balance.
Another good deficit! I'm really, really happy with a deficit of 1000 or more.  If I had a deficit of 1000 calories a day, every day, for a week, that would put me on track to lose two pounds, or roughly one kilo each week.  I'd take that!
I'm about to hit the floor to do a few more exercises for my injuries (bridges….ugh I hate doing bridges!) and then I'm going to get to bed.  I've been feeling really tired lately, even with my new bedtime, so I'm going to try getting into bed even earlier tonight and see if that helps!
What's a good thing that happened to you today?