I have done an excellent job this evening of reading blogs instead of writing my assignment.  I blame it on the fact that it's nearly 9pm and it's still 38 degrees outside (100F). Can being overheated make one less likely to write assignments and more likely to read all about the intimate details of strangers' lives? I think so.  (Now that I've put it that way, I think I realise why blogs are so popular: they satisfy the inner voyeur in all of us.)
My morning started out with a welcome sleep-in.  Well, a sleep-in for a work day.  I didn't get up until 7 45am and it was glorious.  I decided to skip the gym as my body's been feeling pretty tired and run down, and I know that listening to my body in these kinds of moments is key for injury prevention.  So, I listened and got a full eight hours of sleep.  I needed that!
Since I didn't work out this morning, I wasn't very hungry at work.  I stuck to coffee and a big handful of almonds for breakfast- sorry, no photo.
Lunch was fibre-liscious! I made a big salad and topped it with more of the spicy lentil and tempeh balls I had last week.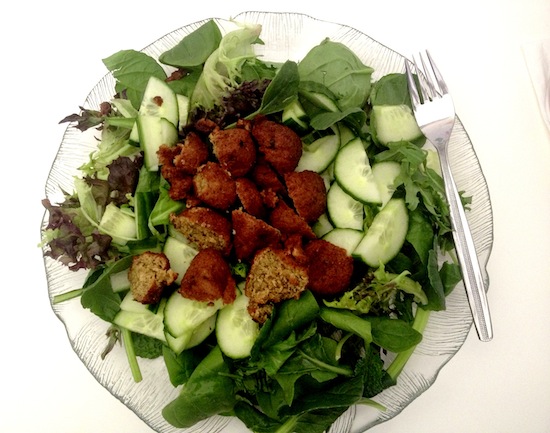 I added Caesar dressing after the photo.  The reason I don't have the dressing in the picture is because I use that old trick of dipping my fork into it before I have a bite to help control how much I have. I was pretty much out of veggies at work, so this salad was a bit sad with just greens and cucumber, but it was still tasty and filling. So filling, in fact, that I didn't need my snack until nearly 4pm.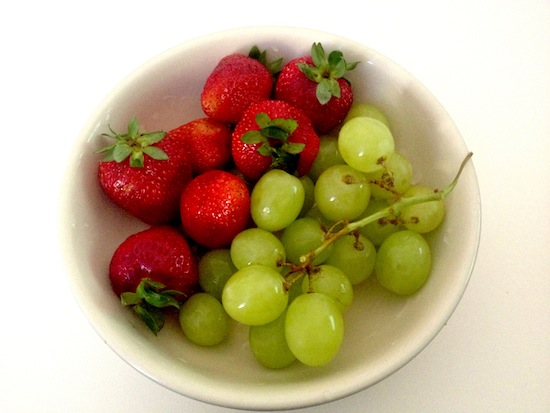 Fruit! I know I've said it before, but I am loving this summer fruit.  Look at those strawberries!
When I got home I had the only thing a person can have after driving from work in a car without air conditioning whose steering wheel is to too hot to actually touch while wearing long black pants in the 42 degree (107.6F) heat: an ice cold beer.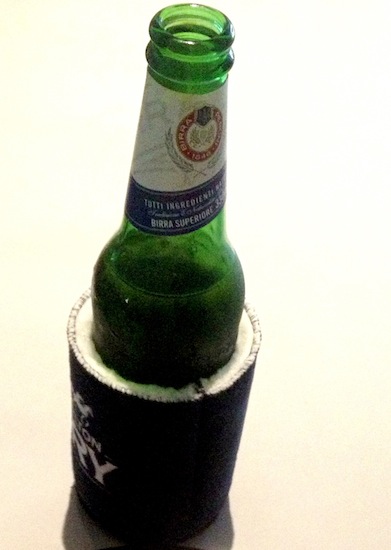 Ahhh. This Peroni was so refreshing.  I don't regret it one bit.
I spent some time tidying up the house because I'm trying to follow a new rule these days: if it takes less than two minutes, just do it. That can apply to calling someone back, doing the dishes, making a quick sandwich rather than ordering a pizza, whatever.  Have I already blogged about this rule? I can't remember.  In any case, it's a good prompt to help me keep on top of little things like tidying that, if left long enough, result in me having to do a full-house clean more often.
Dinner was a tofu and veggies wrap.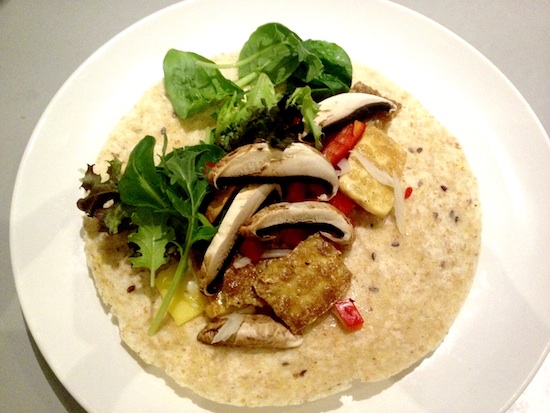 A closer look at this beautiful creation: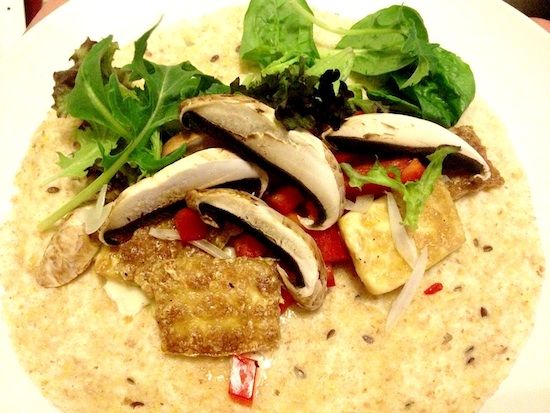 Loved this dinner.  I didn't want to make anything that would take too much effort or heat up the house, so these wraps (I ate two) were perfect.  They had tofu, onion, red pepper, mushroom and greens, with a bit of Caesar dressing, too.
After dinner I ate the remnants of a vegan caramel slice that I made as a gift for someone awhile back.  It was only the bits left in the pan, so I didn't take a picture.  It was tasty though- a layer of shortbread, topped with almond fudge, topped with caramel, topped with dark chocolate.  So. Good.
As for yesterday's final numbers, they look pretty decent: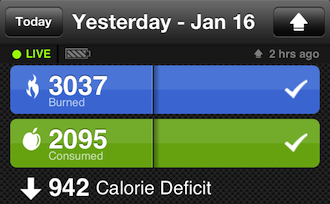 I ended up with a deficit just shy of my 1000 goal.  Hopefully I can make up the balance with today's totals, though after that caramel slice, I might be cutting it close!
 Are you good at giving your body rest days, or do you push through? I used to push through, but I refuse to spend any more time injured and watching from the sidelines, so I'm learning to be better at taking a break.