Hey hey, it's Friday! Loving the end of week vibe I've got going on today. I woke up early without an alarm, which is always a much nicer way to wake up- no blaring noise driving into your brain first thing in the morning. I had an early meeting at 7 15, so I skipped the morning trip to the gym.
After my meeting I had breakfast at my desk- a green smoothie. It's been awhile since I've had one of these!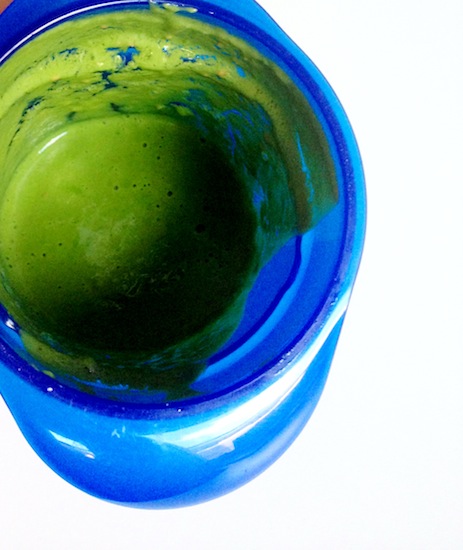 Looks gross, tastes awesome. This one was two huge handfuls of spinach (about 3-4 cups), just under a cup of soy milk, frozen raspberries and frozen banana chunks, plus a half scoop of vegan protein powder. It was a great way to start the day. A little later on I made and savoured my morning tradition: a hot cup of hazelnut coffee with soy milk.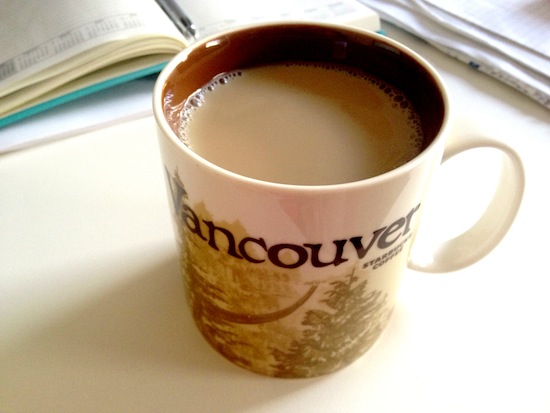 After doing some work on our conference schedule for the year, I made lunch using last night's leftovers.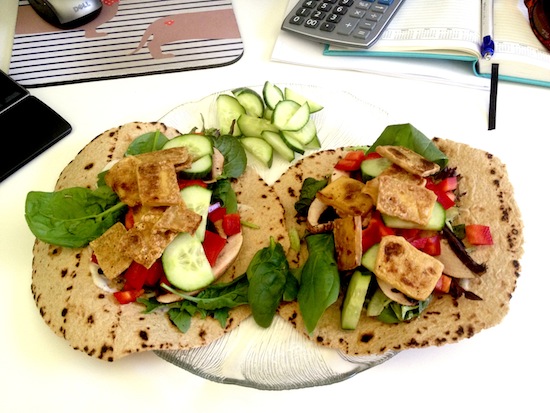 These tofu and veggie wraps were great once again. Today I used wholewheat barley wraps (twice the fibre of my regular wholegrain wraps, and 40 fewer calories per wrap), spinach, baby greens, mushrooms, red pepper, cucumber and tofu. I ate the extra cucumber that wouldn't fit in the wraps on the side. Try not to be jealous of my dachshund mouse pad. Everyone loves a doxie.
I dropped my work gear off at home and then took a walk to the grocery store to pick up some provisions for dinner. It's about 15 minutes each way, so it was a great option to add a little bit of exercise to my day. I picked up some wine, dips, bread, crackers and veggies to share with my best friend BJ who came over this evening! BJ moved to Sydney when she got married two years ago, and she has just moved back to Adelaide for good! It's so good to have her back- I went and visited Sydney a few times, and she made frequent trips back here too, but there's nothing like have instant access to your best friend.
We hung out in my backyard and shared wine and dips with fresh bread and veggies and chatted the night away. A perfect Friday evening in my books! I can't believe I didn't get any photos of our feast, but by the end of the night we were pretty much like this: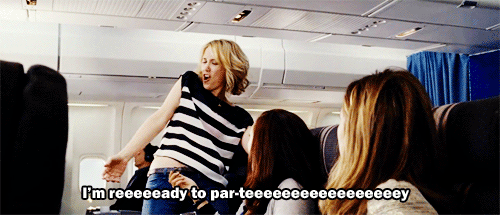 Let's take a quick look at yesterday's numbers: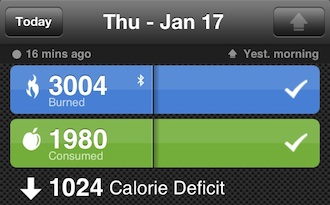 Success! I managed a 1000 calorie deficit even with my caramel slice indulgence. I'm aiming to keep that level of success going through the weekend, which might be tough since I've got a bridal shower and a farewell party to attend…and  there was a fair amount of wine and dips consumed tonight.
What are you facing this weekend that might make it hard to stick to your health goals?