When this happened, it made for an exciting start to the weekend! And things just escalated from there. On Saturday I went to a bridal shower for a beautiful friend of mine that was set up in the Botanic Park. The bridesmaids did such a fantastic job of organising the event; there were games, but not too may and not too lame. Because every single person I know is married, getting married, or having babies, I had played all of the games before, more than once, and won three out of four. I don't know whether to be sad or proud. The girls also did a lovely job of decorating the park for the occasion.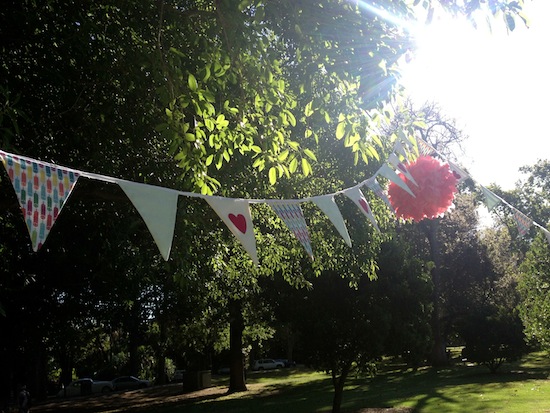 Bunting and bows galore!
The girls.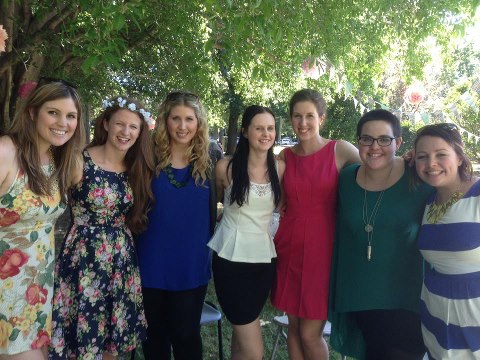 Apparently I'm setting a trend in the hair color department!
Later that night, I headed to my old standby, The Ed for another friend's farewell drinks. No pictures of this night, but I ended up being the DD which I think was a wise choice in terms of trying to keep a lid on the "healthy" factor; I still ended up having a bit of a calorie surplus for the day. On Sunday I spent the day working on my uni assignment, and in the evening I got to welcome Max back from Austria—definitely a highlight of the weekend

Today has been busy. I am organising my editorial schedule for the year at work, and it's going to keep me busy! Sometimes I feel like I have a schedule for about twelve different projects going on, and they are all relatively fluid, so it's hard to keep everything straight. I think I need to find some good project management software!
Anyway, I missed breakfast this morning due to the rush (I know, I know…), and lunch was a bit half hearted. I made this barley wrap in about 30 seconds flat and ate it in about 45.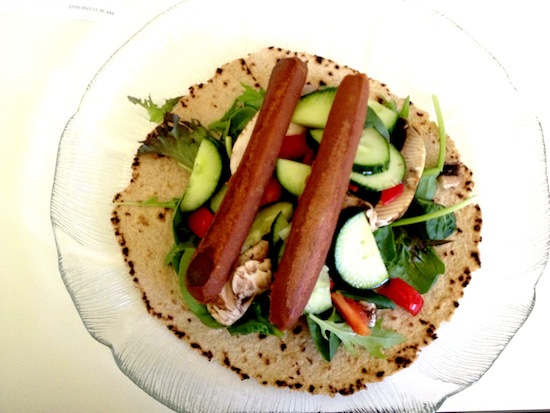 Goodness superfoods barley wrap filled with tsatsiki, lettuce, spinach, red pepper/capsicum, mushroom, cucumber, and a veggie hot dog cut in half lengthwise. It was kind of a weird combo, but it filled me up 14 grams of fibre and 22 grams of protein.
After work it was time to work out! Except I didn't actually have time to work out. I went home and did homework until Max brought me dinner around 8 30pm.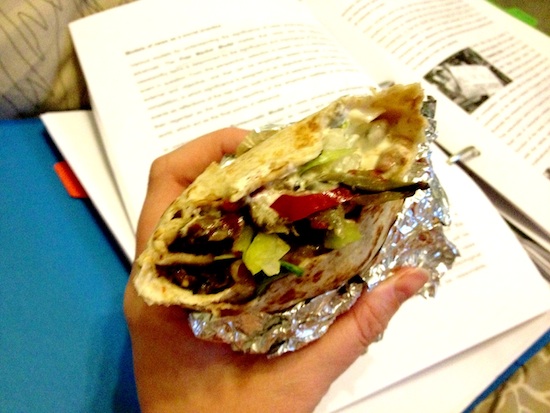 A blurry Arriba Grill veggie burrito with a side of reading.  Tasty, filling and quick to eat- exactly what I needed. I'm planning to make some dark hot chocolate to sip on while I do another couple of hours of work tonight.
I'm planning on heading to the gym tomorrow morning to get in another good workout since I didn't get to do much moving around today.  Looking forward to a good sweat session!
On days like today, when I'm feeling busy and a little bit stressed, I know I need to eat enough food to keep my body and mind going, but I don't have the time to cook something from scratch. I do my best to pick pre-made options like veggie dogs or burritos or leftovers I've got in my freezer that are healthy choices, but it can be hard to find something that fits the bill.
What is your ultimate "no time, no stress" healthy option?