I had an awesome day!
It feels good to say that.  I think that when you blog most days, you can get caught up in documenting all the little things and you forget how to see the forest for the trees. My great day started off as so many seem to do these days: with a morning workout.
I headed to the gym to meet my friend Tash at 7 15am.  I was a few minutes late and she'd already saved a treadmill for me, so I hopped right on and we got talking.  I love having someone to chat to on the 'mill some days- it makes time fly.  On the days when I'm adding sprint intervals into my workout, I prefer to be alone, mainly because I can't keep up any conversation at all when I'm in an interval, nor for a few minutes after as I recover.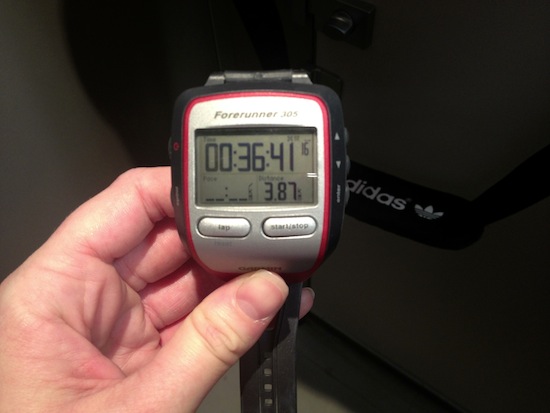 We went for just under 40 minutes and I covered 3.87 hilly kms.
I showered, changed, applied makeup and headed straight to work. By the time I sat down at my desk, I was in a much better mood than I would have been without the morning session.  I immediately made coffee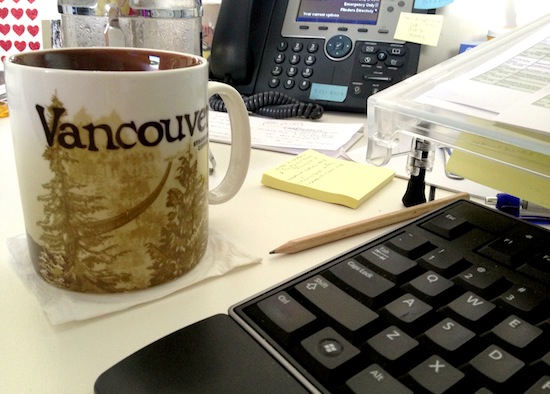 (hazelnut praline coffee from Gloria Jeans with high-calcium soy milk)
and then set to work on breakfast.
I made two pieces of quinoa toast and topped one with peanut butter and the other with strawberry jam.
Work flew by between breakfast and lunch.  I had a really good plan for the day and was ticking off my to-do list all over the place.  I felt super productive, which put me in an even better mood than I already was (is my incredible optimism making you sick yet?). I stopped for lunch around 1pm.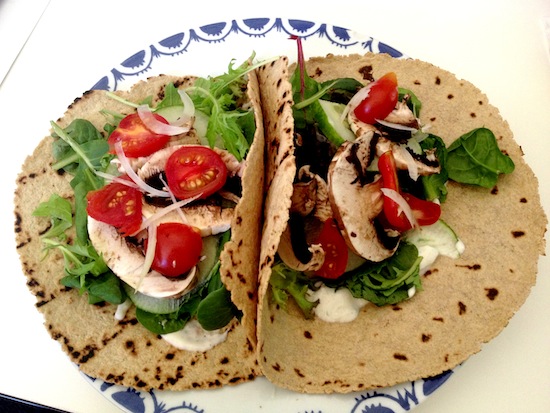 I used up the last of my Goodness superfoods barley wraps today and filled them with tsatsiki, lettuce, spinach, tomatoes, cucumber,  mushroom and onion.  The cucumber and tomatoes were actually fresh from my co-worker's garden! She brought them in for everyone to share, which I really appreciated because I haven't been able to do any grocery shopping this week.
I worked a bit late because I was on a roll, then headed home and got straight to work on uni stuff.  I'm proud to say that I finished a full draft of my assignment! All I have left to do is put in the proper citation and re-format it so it looks like, well, an assignment rather than a mess of words. I was so pleased with myself that I remembered to make some food, so I heated up some vegetarian "chicken" that I found in the freezer.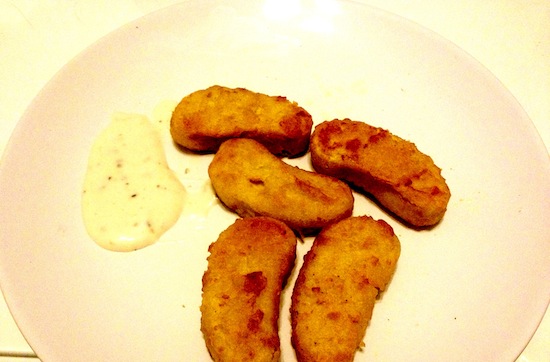 Sorry for the icky picture- it tasted about as good as it looks. I also had two pieces of this Lindt dark chocolate with sea salt.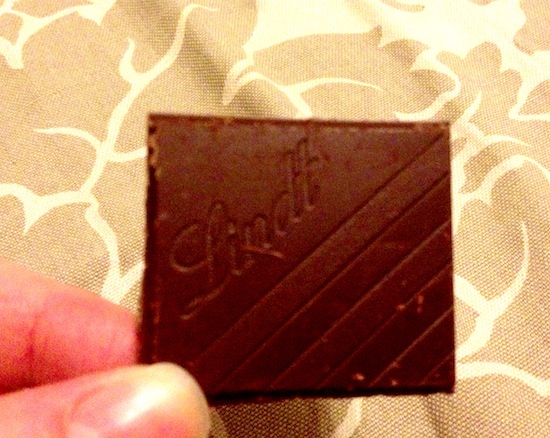 Shortly after I finished my "chik'n", Max came over and took me out to the Unley Gourmet Gala.  The Gala is a food and wine event that takes place the night before the official Tour Down Under starts. As you (should) know, the Tour Down Under is a big, and quite important, cycling race that takes place in Adelaide and its surrounds every year around this time.  A couple of years I go I spent a day following one of the stages in McLaren Vale and got to see Lance Armstrong ride by a few times, only a meter away.  It was pretty cool.  Now, of course, that experience has a different memory attached to it.  (Oh Lance.  Sigh.)
Anyway, the Gala is great- King William Road is closed to cars, and the cafes and restaurants that line the street bring their tables, food, wine and beer out into the road.  We walked through the ally near my place to the festival on the other side.
The street was packed with people eating, drinking, and listening to the bands that were set up at different points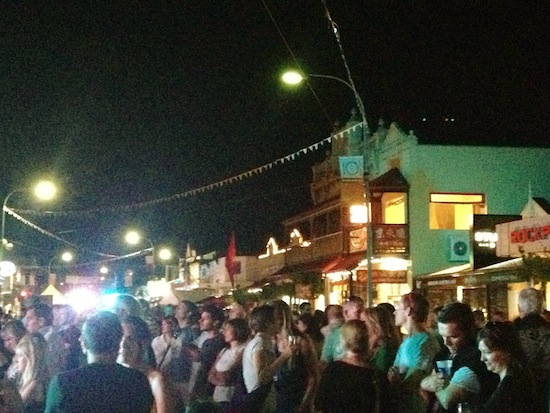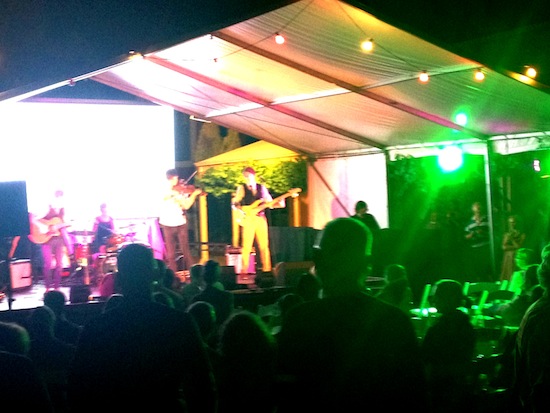 I had two glasses of sauv blanc, a slice of pizza, and a few sips of beer.  All went unphotographed, but recorded in my calorie counter.
I loved it.  It was the first year I've made it to the Gala and it was awesome to not need to deal with the hassle of parking anywhere. I love my new location!
Ok, now a quick look at yesterday.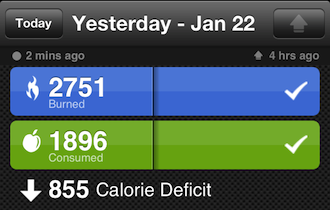 Meh.  It was an ok day, but I didn't get to the gym and spent the second half of the day on the couch, working on my assignment, so my calorie burn was sort of low compared to what I ate.  I think I made up for that with lots of activity today.
I'm off to do some hip and knee exercises before bed. Before I go, I want to know:
Have you had a close encounter with a celebrity? (Yes, I'm counting that time I stood a meter away from Lance as a close encounter).