Hello and Happy Friday!
I was MIA on the blog yesterday because I was finishing up an assignment that was due today. I submitted the final piece around lunchtime today and wow, was that a weight of my shoulders! One more major article for this class and then I am officially ¼ of the way through my Masters degree! That feels good to say.
In addition to working on my assignment last night, I was working with Max to prepare for Australia Day, which falls on Saturday (eek! tomorrow!). We are throwing a big party, and I needed his help to hang some pictures, do some gardening, move furniture, clean, get groceries, set up the sound system, and general party prep. We're expecting around 45 people to turn up throughout the day (it's an open house thing from noon onward), so it should be fun (and crazy!).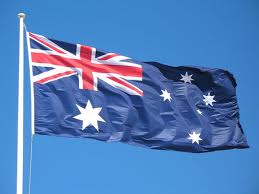 source
I've also done a ton of food prep tonight. We've asked everyone to bring their own meat (or tofu!) for the bbq, and I'm working on three different salads (Greek, California, and Moroccan), corn on the cob, tofu and veggie skewers, chocolate chip cookies, caramel shortbread chocolate slice, and a big old watermelon. I'm hoping it's enough food to keep everyone happy!
Why am I throwing such a big party for Australia Day? Well, as it turns out, I will become a citizen tomorrow! I have been living in Australia now for over five and a half years, and after four visas, four jobs, five homes and a lot of time spend on government applications, as of tomorrow I will a dual citizen of Canada and Australia!
My ceremony is early in the morning at Carrick Hill, which is a beautiful old home in the Adelaide foothills that now serves as a heritage site and function venue. Max, his family, and a few friends have all requested invites to the ceremony, which I was lucky to get for them as seating is limited. After the ceremony we'll head back to my place and await the arrival of our guests! I'm so excited to enjoy food, fun, and a good old Aussie bbq….as an Aussie!
It's been a long journey and I'm thrilled that for the rest of my life, I will part of Australia and it will be part of me. Part of me feels a tiny bit…I don't know, guilty? about giving up part of my "Canadian-ness" to trade it in for a bit of "Australian-ness". Does that make sense? Of course I'm not giving up my Canadian citizenship to take on my new Australian one; I can enjoy a dual status because of our Commonwealth bond, but I still can't help but feel that a little piece of who I am is breaking away and being replaced by something foreign. My time in Australia has fostered a deeper sense of individualism and self-sufficiency in me, and it's helped me to feel more confident in making big decisions for my life. It has certainly given me plenty of priceless experiences and relationships, and for that I'm willing to trade a little piece of my identity as a Canadian, but it still feels a little strange.
I'm not sure if I'm making any sense here, but all that is to say that tomorrow is a big deal for me! I'm excited, nervous, proud, sad, and honoured that soon I will be called an Australian. Cheers to you, my (soon-to-be) fellow Aussies! Have a wonderful Australia Day long weekend!