Hi friends!
Thanks so much to those of you who reached out via email to offer congratulations on my citizenship! It was a really exciting and lovely day, and I'm planning to do a post all about it, including pictures, soon.
Aside from Australia Day, the weekend was pretty quiet. Max helped me clean up the backyard and do some tidying in the kitchen, and we did a bit of shopping before heading out to meet friends at Rockbare winery for the Crush festival. We sat on a picnic blanket at the winery for a few hours before moving on to Longview in Macclesfield.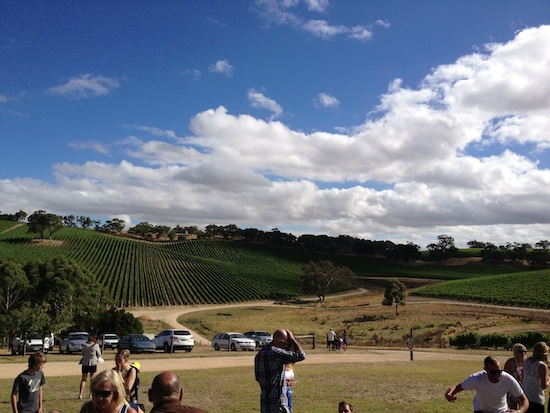 We listened to the dj and shared a bottle of Wippet (our favourite!) before heading home to watch season two of Arrested Development. A perfect day!
I didn't wear my armband this weekend. I knew that I'd be getting a lot of activity while preparing for and cleaning up the party, and I also knew that I would eat a lot of treats and drink more alcohol than a normal weekend. I decided to just relax about it all and get focused again come the work week, so I wore my armband today, which I know will help me get back on track.
I've missed blogging the last few days! I've been crazy busy with hosting my big party, dealing with a stressful time at work (government reporting period), and trying to write my final paper for my current course.  I am away this coming weekend for a friend's hens party (bachelorette party), and I would normally hunker down the weekend before an assignment is due and give it my full attention for two days straight.  Since I won't be able to do that this time around, I'm focusing on trying to get a lot of work done this week.
This morning at work I held off on having breakfast because we had planned a morning tea to celebrate my citizenship. When I walked into the meeting room with my plate of cookies in hand, I stopped short: my colleagues had covered the room with Australian and Indigenous Australian decorations, the table was covered in food and treats, and there was a huge box with Australian flag wrapping paper on it, all for me!
(Excuse the skeletons, I work in health!)
I was shocked-  my office is very on-task; we have a morning tea for birthdays, etc, but it's generally very short and everyone likes to get back to work asap. I wasn't expecting anything special or different at all, and I felt really special! It was such a lovely gesture.
I've been terrible at managing my meals this week as I haven't had a chance to grocery shop, so I missed lunch at work and picked up fast food on the way home.  I don't remember the last time I had McDonalds, but I did today.  I'm embarrassed to admit it! I had a Big Mac minus the meat, which is one of my guilty pleasures.  It comes in around 350 calories, which isn't heinous, but they're certainly not nutritious calories. SInce my little indulgence, I haven't felt like eating dinner, so I'm hoping that I can manage to find healthier fare for tomorrow.
Ok, I've got to get back to my study.  I will do my best to be around here as much as possible while I'm finishing this paper!
Australians: what did you do for Australia Day?
Non Australians- what are your plans for your next public holiday?