The deadline for my final Visual Culture paper is drawing nearer and nearer, and my stress levels are rising accordingly. This post will be a quickie as a result!
I started off the day with a quick trip to the gym. I was super sleepy this morning and was tempted to put the workout off until the end of my work day, but I knew the likelihood of me actually going to the gym after work was slim. So, I got up, laced up my shoes, and did a quick warm up on the treadmill.
After a kilometre (about 10 minutes), I moved to the weights area and did a back and shoulders workout. I lifted heavy enough weights that by rep 9 or 10 I was struggling to finish the movement. It felt good to push myself!
(I don't have any photos of the first half of the day because I left my phone at home this morning. It was a weird feeling being without it all day!)
When I got to work I cut up an apple and ate it with a tablespoon of peanut butter. I had a few cups of my hazelnut praline coffee on the side.
I got hungry early today, around 11 30am, but I couldn't do anything about it because we were going out for lunch as a team to farewell one of our colleagues. The lunch wasn't scheduled till 12 30pm, so I practiced controlling my hunger and being patient.
We went to Stumps, a new-ish restaurant that I've been to a handful of times since it's close to my house. I ordered the roasted vegetable and cous cous salad which I had a couple of months ago. It was still just ok, but they don't have a lot of other vegetarian or vegan choices there.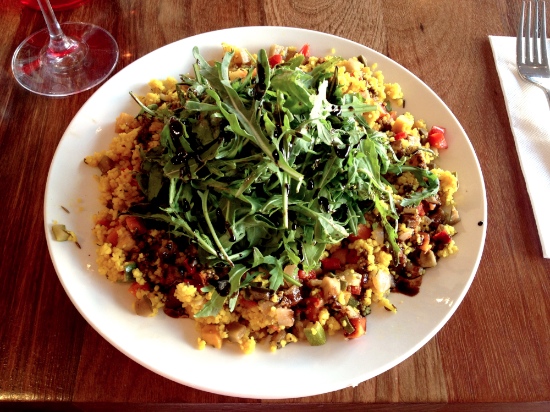 (recycled photo from last time I ordered this salad)
After lunch I swung home to grab my phone before heading back to work and finishing the day.
Once I got home, I settled into my new nook to do some work. I am feeling seriously behind and tried my best to focus and push myself to get through at least 1000 words. I was about halfway to my goal when Max showed up to take me out for dinner.
We went to Zapatas as a reward for my latest uni assignment- I got the mark back earlier this week and I received an HD! I was pretty happy about that, and will never say no to a night of Mexican food to celebrate! We started with chips and dips.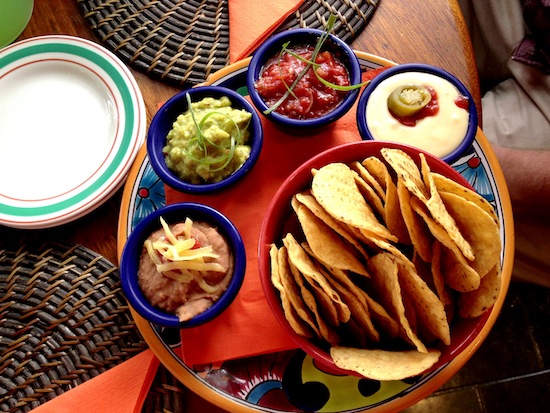 And then shared the vegetarian fajitas.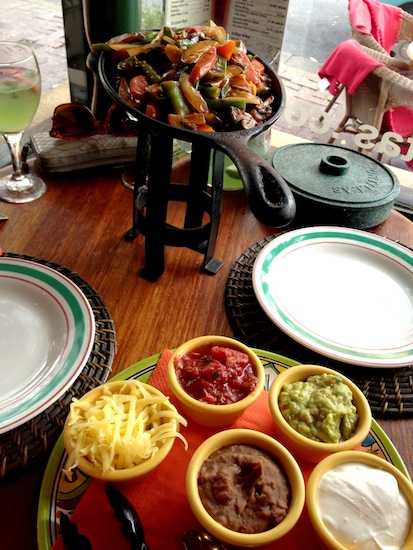 We usually order these two dishes when we visit Zapatas, and that's because they are both delicious! The fajitas especially are my favourite, because if you've been around here for awhile, you know that I basically eat some variation of vegetables in a wrap for about 30% of my meals! I also love taking the tiny tortillas out of that warm plastic container and being able to control exactly what goes into my wrap every time.
I had three tortillas that looked roughly like this: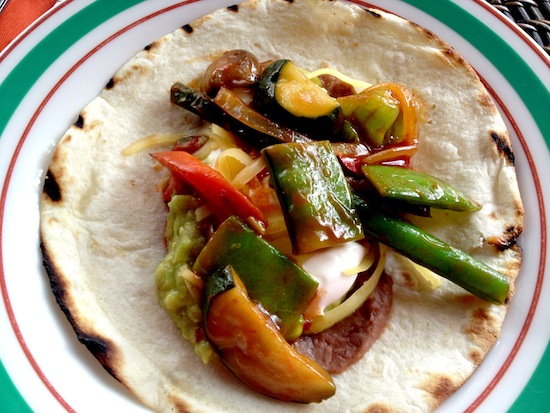 Delicious.  I also had that incredibly bright green drink you see in the background above, which, ironically enough, was their 'white sangria'.  It was delicious, but definitely not white.
I'm now extremely full and getting ready to get back to work, but here's a recap of yesterday's totals: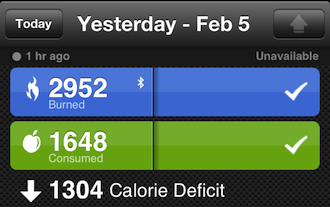 Great deficit yesterday. I felt like I had a really good balance of nutrients through my day (and My Fitness Pal confirms that), plus I fit in a great workout in the morning. Yesterday was a lovely day, fitness-wise!
Today's final numbers definitely won't be as good. Those white sangrias really added up in the calorie department, and I know that will impact my total.
It's back to the grind for me- I hope your night is filled with FUN!
Do you like Mexican food? I love it, but it's tough to find good Mexican food in Australia!