It's days like today that I'm extra grateful for my job.  Not only is it close to home and a non-profit organisation that makes a difference in real people's lives, my boss is pretty flexible and allows staff to take flex days.  I usually work a couple of extra hours each week, and it adds up fast, which means that I generally have one or two flex days owing to me that I can take when needed (as long as it's ok with my director, and, obviously, not in the middle of an important event at work).
I took a flex day today in order to sit down and have a full eight hours to focus on my final paper. I got out of bed around 9am (what a glorious sleep in! I finally feel caught up from the crazy weekend) and made myself an iced coffee and a grilled cheese sandwich for breakfast.  I know that sounds weird, but it was exactly what I felt like.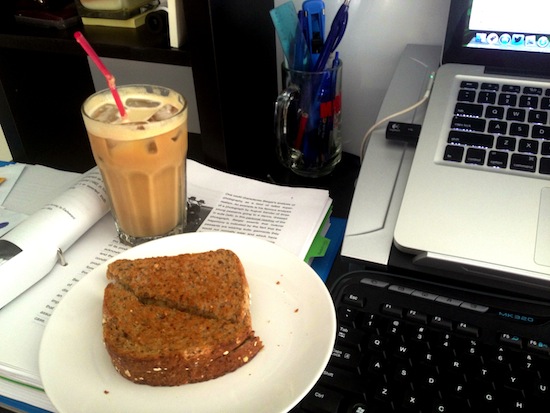 I took it to my desk to eat while starting to wake my brain up and get it into study mode.
I worked steadily through until the afternoon, stopping every once in awhile to do laundry, stretch, bring in the garbage bin, clean the bathroom, and do other little jobs to get my blood moving.  Around 1 30pm, I stopped for lunch.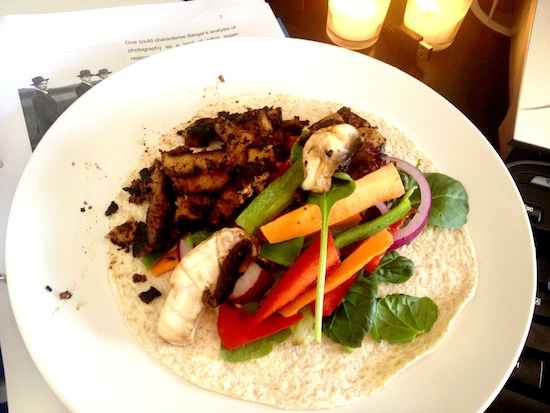 The last of the leftover bbq tofu in a wrap with carrots, red onion, mushrooms, red and green pepper, baby spinach and salad greens, plus a bit of ranch dressing.
I started to make some real progress after lunch.  Until that point, I'd been doing a bit of research and mapping out some thoughts, but after lunch I actually got some words down and started to feel much better about the direction of the paper. I celebrated by making a smoothie for a snack when my tummy started growling around 5pm.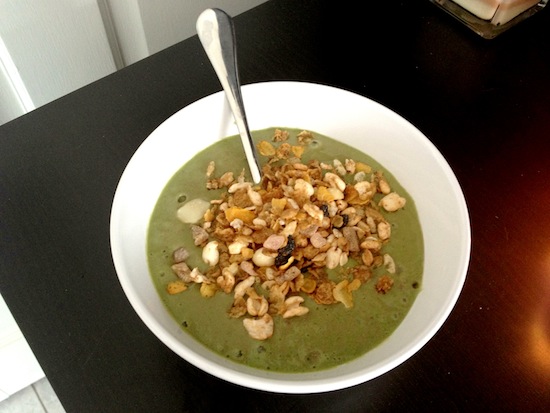 Tons of spinach (about three cups), soy milk, frozen raspberries and about half a banana, all blended up and topped with a sprinkle of cereal.  This hit the spot.
I took a break after my smoothie to chat with some friends, check emails, clean up the backyard, and do some lunges.  My legs are still sore from my weights session the other day, so my lunges burned! I'm trying to get used to doing them again because I know that when the 12 Week Challenge starts, I'll probably be forced to do them all the time.
Max came by and made dinner for me tonight.  He really is so good to me! He made grilled veggie quesadillas, which is one of his favourite things that I make for him, so it was exciting to see him give it a go.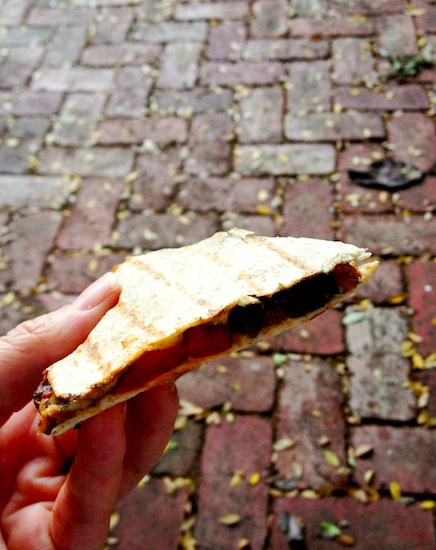 Fabulous! Roasted onions, portobello mushrooms, and capsicum with a spicy caulifower (vegan) queso (<– recipe from Cadry's Kitchen). He did a really good job with them — thanks Max!
I think I'll put in another hour and then I need a little time to relax! I'm about a third of the way through and am hoping to nail down another 500 words before I break for the evening, at which point I might see if Max would like to take a walk with me…nothing like stretching out the legs after a long day in a chair.
Before I go, here's how yesterday ended up: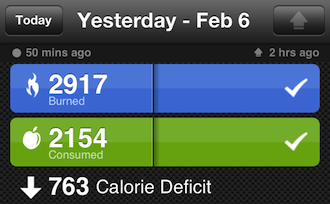 I knew those 'white' sangrias would catch up with me! I'm not stressing though- is still a decent deficit.
Do you ever make smoothies? Do you like to add veggies or stick to fruit-only?