I spent the day at home trying to feel better.  I think I'll make it back to work tomorrow but I'm still not feeling great, unfortunately. Hopefully by tomorrow evening I'll be ready to tackle another training session with Ben! Max and I also need to give him our food diaries for the last week (including our terrible weekend of booze and fast food), so I'm feeling nervous about that, too. Plus, there is quite a bit going on at work right now so I'd rather not stay away too long, plus I always feel guilty taking a sick day, even if I need it.
On a brighter note, here is the cutest picture I've ever taken: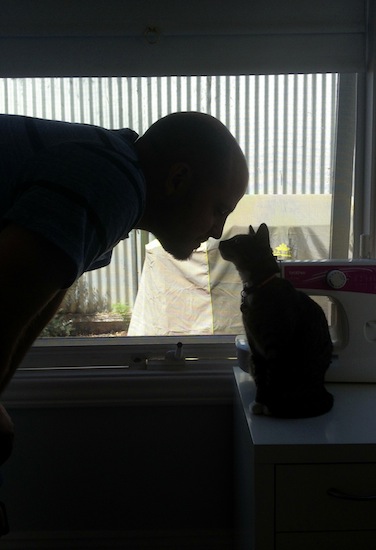 My two loves saying hello!
Tell me that isn't the most adorable thing you've ever seen.
Anyway, since I was at home today I made a bit of a luxury breakfast: an iced coffee and two hashbrowns with ketchup.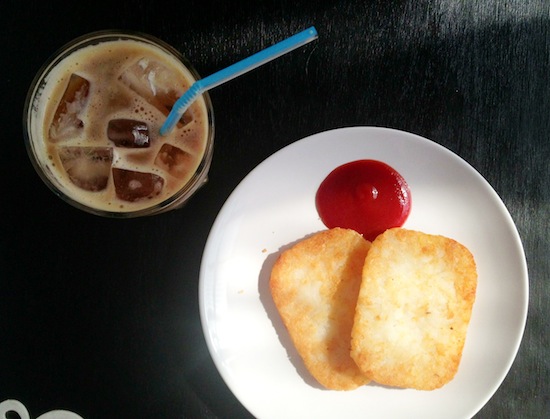 This was so delicious, I loved every morsel. I can't remember the last time I had a hashbrown!
Since I spent most of the day on the couch, I wasn't hungry for lunch until around 2 30, at which point I heated up the leftovers from last night's veggies burgers and ate them without the roll, deconstructed burger style.
I had big plans for that roll.  I decided to have it as "dessert" and eat it with margarine and jam.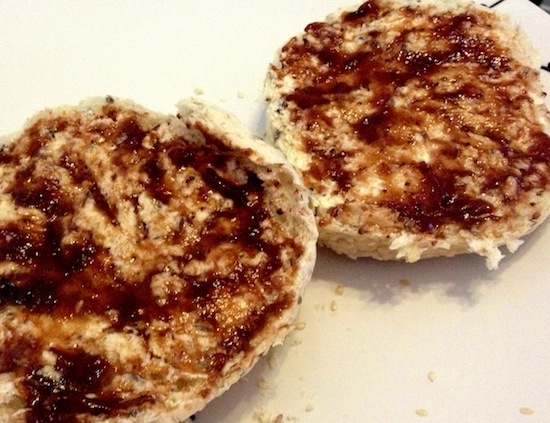 Fantastic decision.  I love nothing better than soft, fluffy bread with a bit of jam.  This was so simple and so good.
Tonight I had dinner at the TA for quiz night! Our team came in dead last tonight, which was a shame, but I had a good time with friends and enjoyed my meal.  I ordered the one vegetarian salad on the menu: the haloumi salad. I didn't take a picture of it because I was speed-eating in between quiz rounds, but it had greens, roast capsicum, cherry tomatoes and olives with haloumi in a lemon vinaigrette.  I also snagged a few of one of my friend's chips.
I'm super tired now (you know, a big day on the couch takes it out of you) so I'm quickly checking in on yesterday's totals: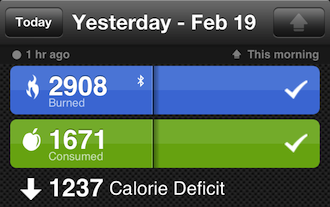 This is great.  I know that my activity levels today will be much lower since I hardly moved at all, so I'm glad that yesterday's big deficit will help balance that out.
Would you rather have fresh bread or a "real" dessert, like cake? Bread, every time.