This morning I got out of bed the earliest that I've ever done in my life that wasn't for a flight.
That sentence was really awkwardly worded but I'm too tired to try and fix it.  What I'm saying is that I got up super early, and I'm not used to it.  I woke up at 5 45am today in order to get to the 6 05am Body Pump class at the gym.  I know that most of you reading this are probably rolling your eyes at me (especially those of you with kids!) but I'm lucky enough to live just a few minutes away from my work, so even on "early" days, I don't normally get up before 7am, or  6 45 at the earliest.  So I'm quite pleased with myself for getting to the gym when it was still pitch black outside and lifting some weights for an hour!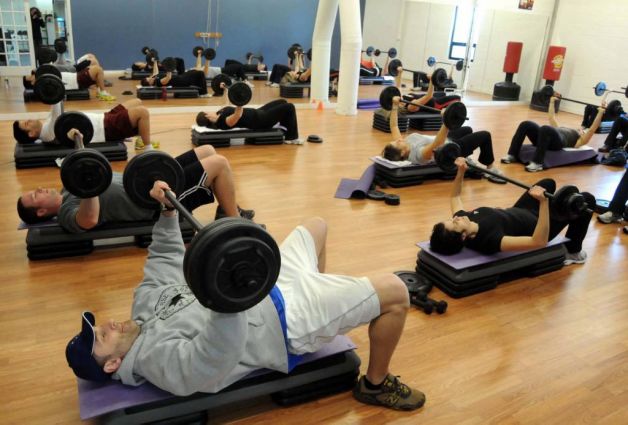 source
(This is not my gym, nor my Body Pump class, but I forgot to take any pictures this morning [see: 5 45am alarm].)
After the class, which was awesome by the way, I had the luxury of going home to shower and get ready for work.  I usually do this at the gym when I have a morning workout, so it was lovely to get to be in my own space.  I also had time to make a smoothie for breakfast.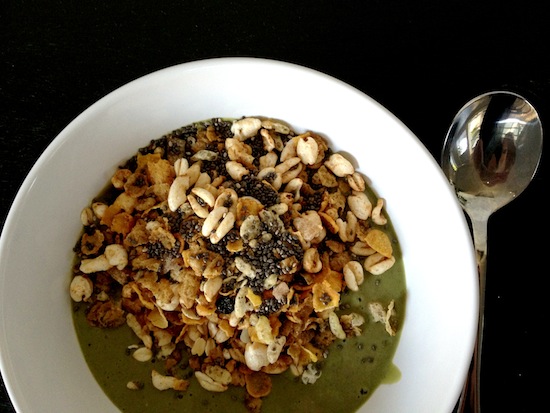 This was soy milk, frozen raspberries, half a banana, two big handfuls of spinach, and half a scoop of vegan protein powder, topped with a bit of cereal and a spoonful of chia seeds.
Once at work, I cranked out a pretty productive day.  I find that when I've hit the gym in the morning, I am generally in a better mood at work and have a bit more focus than usual. The morning flew, and I stopped just after noon for some lunch.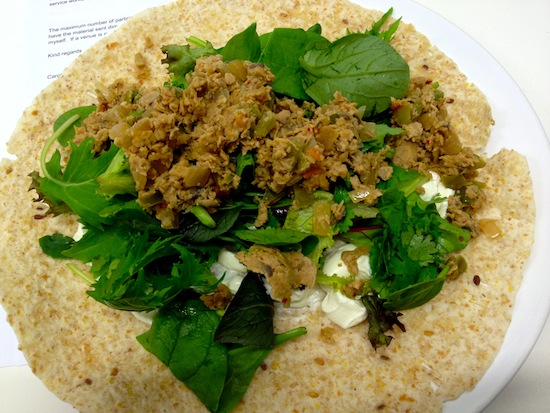 Leftover tempeh tacos, which I now realise, having uploaded the photo, look pretty unappetising.  Don't be fooled; this was delicious!
In the afternoon I snacked on the last sad grocery-store peach (can't wait to start the farmer's market ones!) with some almonds.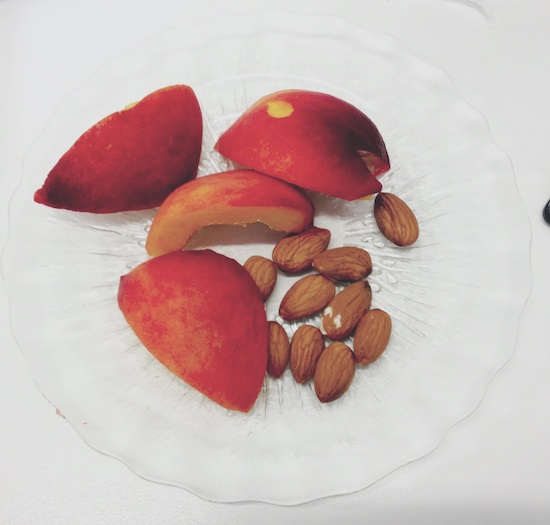 This snack held me over  through the rest of the day, but by the time I was home making dinner, I was getting pretty hungry.  The meal planI decided on for this week had a pretty labour-intensive dinner scheduled for tonight, so I was in the kitchen for awhile before I got to eat, and I was so ready to dig in once I'd plated everything up.
I made zucchini "noodles" topped with homemade sauce and rosemary roasted potatoes on the side.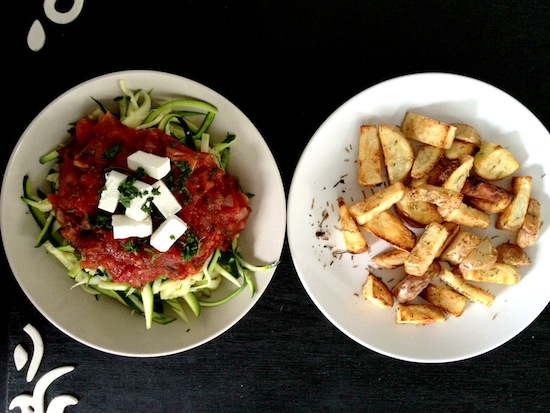 The part of this meal that takes ages to do is the zucchini "noodles".  Basically you just need to slice a bunch of zucchini into really thin pieces, and then cut those pieces into long, thin strips.  It takes a long time, particularly if you are making leftovers for your lunch the next day, like I  was.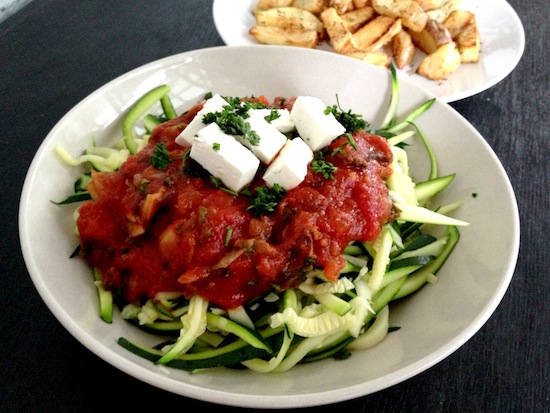 However, once I topped my "noodles" with fresh herbs and a bit of feta, this dish was worth the time it took- it was glorious. After I took this photo I added about three times as much sauce to my bowl.
And now it's night time and I'm yawning. At this very moment I need to do a bit of foam rolling as part of Project Prevent Pain before I email trainer Ben my goals for the week. Before I do that, here's yesterday's numbers for ya: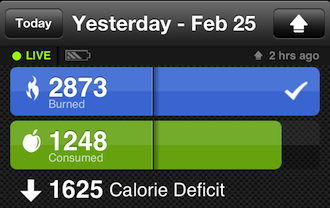 (Insert whistling noise here.) I didn't mean to have such a big deficit yesterday, but I was really full after dinner and didn't have room in my stomach for any more calories.  For the record, I try to eat at least 1600 calories a day because my body needs it to function, but I just didn't have it in me yesterday.  At least it might help negate the effects of my big pasta dinner on Sunday?
I'm off to my date with the foam roller.  I hope you are taking care of yourself tonight!
What time do you normally get up in the morning?