Thursday is my favourite day because no morning workout = weekday sleep in! I got eight and a half hours of sleep last night and it was glorious. Of course, the trade off for no morning workout is an evening workout…with Ben. But I'll get to that in a minute.
Breakfast this morning was at my desk, as usual, and included coffee, muesli, fruit and soy milk.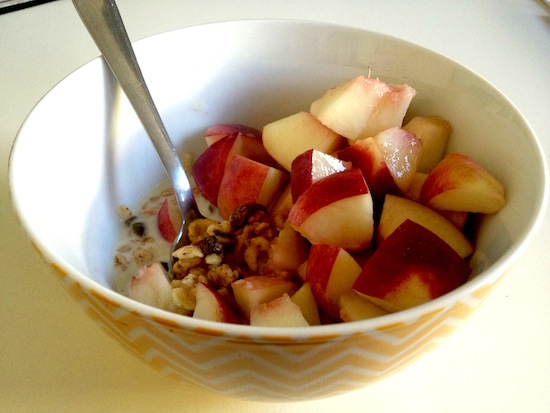 Pretty standard these days, but good nonetheless.
I spent my lunch break putting together my food diary for our trainer to look over. I have to copy and paste my logs from My Fitness Pal and resize them to fit in the word document page, so it takes a little while, but it's always a good chance to look over what I've put in my body for the week.
I worked out that on average over the week, I ate 1678 calories a day. I only drank alcohol once, on Saturday night (this is a new record for me!) and did really well in getting adequate protein and calcium (two of my focus areas as a vegetarian/part time vegan). I was quite pleased with it all, aside from my delicious pasta dinner on Sunday, which was meant to be lunch and dinner but somehow all disappeared in one sitting. Oops.
Anyway, while I put together my diary, I ate leftovers from last night.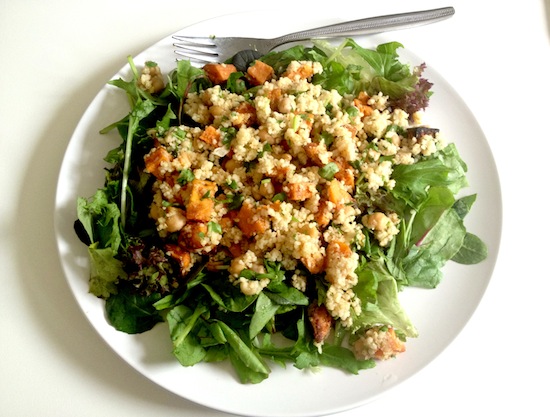 Moroccan sweet potato, chickpea and couscous salad on top of an extra two cups of baby greens for added nutrition.
Around 3 30, I stopped for a snack.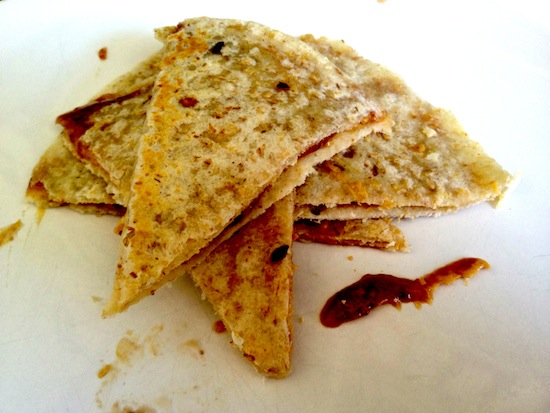 A warm, drippy and delicious pb and jam quesadilla. It tasted like dessert and was beautiful. I tried to time it so that the carbs and protein would be readily available for my workout later. Just to be on the safe side, I ate half an apple around 5pm. The half-fruit trick worked to keep me from feeling faint last week, so I thought I'd try it again today.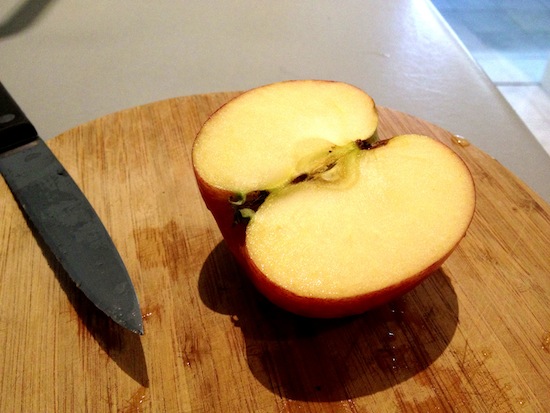 Max and I trundled off to training at 6pm. I felt a bit nervous because a) I wasn't sure what we'd be doing, and b) Ben had us send him our goals for the 12WC today and I knew that as of today's session, he'd be trying to help us reach our goal. I was pretty certain that would mean that I would be completely thrashed….and I was right.
Our workout consisted of alternating rounds of body weight exercises and running.  We covered pushups, crunches, medicine ball oblique twists, kettlebell squats with upright rows, bodyweight TRX rows, squats with a giant rope on our backs, and various running drills.  It was hard and I was so out of breath the whole time. I definitely felt challenged! Afterwards, we chatted for some time about our individual goals and the things we'll have to do to accomplish them. (I still owe you a goals post, which I promise I'll get up soon!)
After we peeled ourselves off of the ground at the park, we had quick showers and got ready to go out and celebrate Max's sister and dad's birthdays. We went to The Greek on Halifax, which is a beautiful and light-filled restaurant. It was still light out when we sat down, and it was so pleasurable just sitting and enjoying the evening sun.
Since Ben and I had had a pretty serious conversation about my goals just a couple of hours earlier, I wanted to be really careful with what I decided to order for dinner. I settled on a lentil salad and Greek salad (both without feta), a chickpea and red pepper patty, and ate a piece of pita with skordalia. Everything was fantastic and it was hard to keep from trying more, but I did pretty well.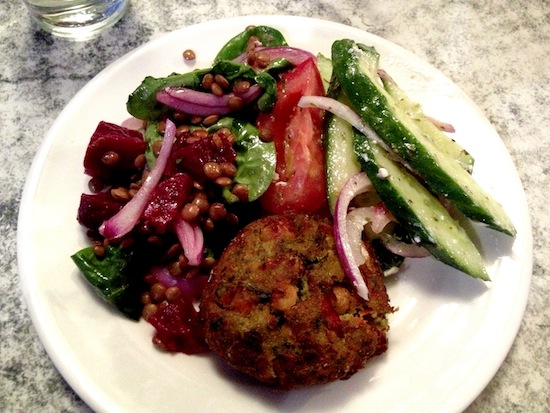 It was really nice to sit down to dinner out knowing that I'd worked hard just beforehand. I think that sometimes after we exercise we are so much more aware of what we decide to put in our bodies. We want to be able to nourish and fuel them, and good, healthy food is so much more appealing than junky stuff.
Ok, it is way too late, so quickly, here is yesterday's result: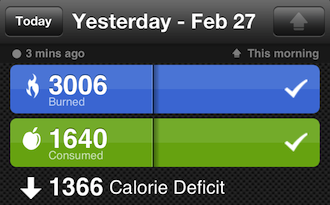 I'm happy with this. Just quickly, one of my goals is to drop 1.5kg per week for the 12 weeks of the challenge which is a lot. It will take a lot of hard work, and to accomplish that kind of loss I'll need a deficit of 8400 calories per week, or 1200 per day. So, I'm going to push really hard to achieve that goal by making sure my deficit is big enough to ensure that kind of result.
What is your favourite restaurant?
What was the last workout you had that made you want to fall over and lay on the ground for a million years?