Last night Max and I went to…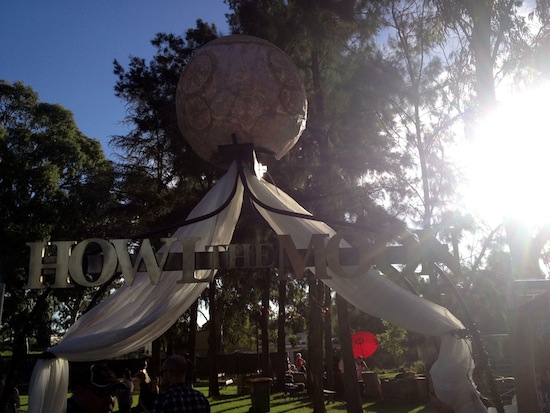 Howl the Moon! Howl the Moon is a pop-up venue for the Adelaide Fringe (it's the most wonderful time of the year!) and it features down-home Southern cooking, blues/folk/gypsy bands, a bar, and vintage furniture, blankets and rugs strewn about the lawn for seating.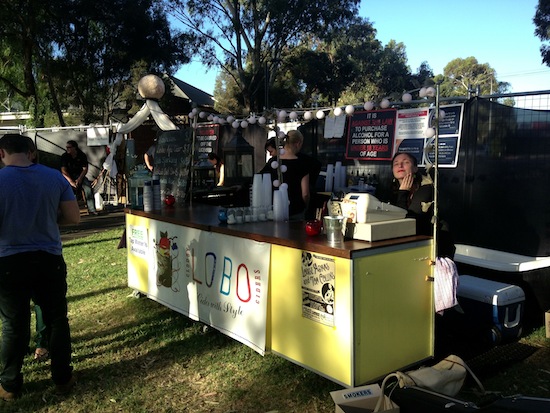 Upon arrival we grabbed a couple of beverages.  I had one of my two allowed alcoholic beverage for the weekend, a tiny glass of rose, and Max had a Heineken. After we found a spot on one of the sofas, we settled in and relaxed.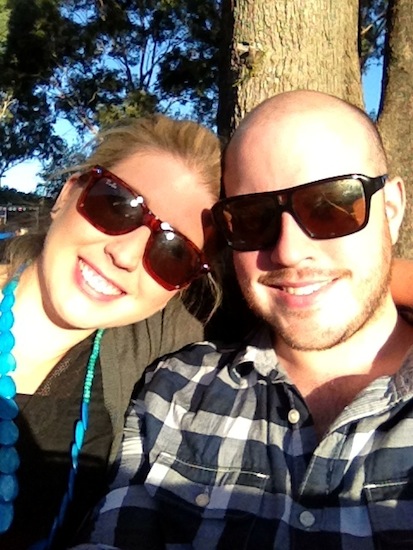 Before long, the food truck opened for business and we headed over to see what kind of delights were to be found.  Behold, one of the tastiest Fringe foods I've tried: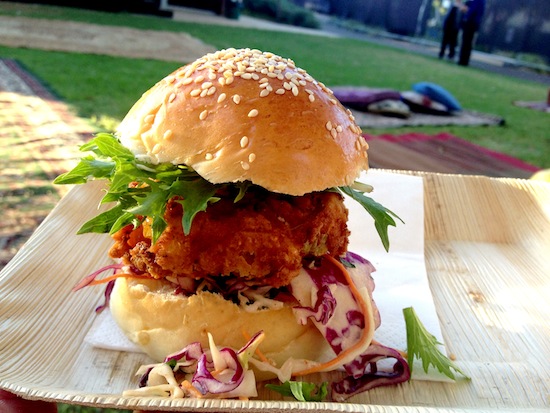 The fried green tomato slider! This was a truly delicious little burger.  It was quite small, as you'd expect from a slider, but packed full of flavour.  The green tomato was coated in a crispy, salty batter, then fried and topped with coleslaw, greens and hot sauce.  It tasted  so quintessentially Southern: smoky, creamy, and crunchy all at once.  I loved it so much I had two! I think that together, the two sliders would equal about one normal-sized burger, maybe a bit more.
After the sun set, the band came on to play. To be honest, they were not at all what I was expecting (they dressed as 19th centure cowboys and sang song about being outlaws, getting hung from the gallows, and being a sheriff's widow), but it was entertaining nonetheless.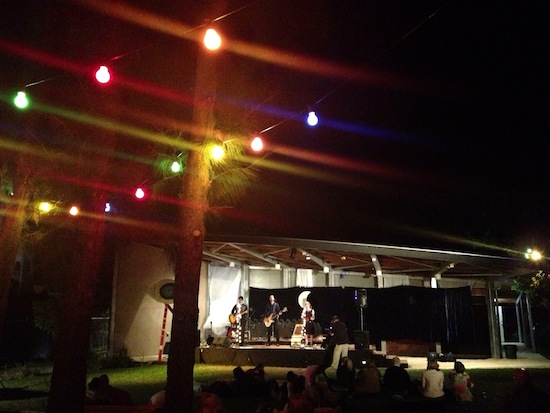 All in all, a lovely night!
We were up bright and early this morning to meet the other 12 Week Challengers at the park for our first 7am group training session.  With about 60 people there, it was chaotic, but since it was our fitness testing day, we were sorted into groups to complete the various tests.  We did a quick warm up, then half of us did the beep test (ugh, the worst) and then saw how many push ups we could do in a minute, how many burpees  we could do in a minute, how long we could hold a squat, how long we could hold a plank, etc.  It was good to get a baseline measurement to work from, and at the end of the 12 weeks we will do the tests again to see how we've improved.
Since there was a fair amount of down time while we waited for people to complete their testing, Max and I didn't feel that we got too much exercise in total, so once we'd stretched and done a cool down, we drove to the beach for breakfast and a walk in the sand.
We popped into Grind It Espresso in Glenelg and were seated immediately.  Normally there is a bit of a wait when we go there, but since it was still pretty early, around 8 15am, we scored a booth.  We immediately ordered much-needed soy lattes.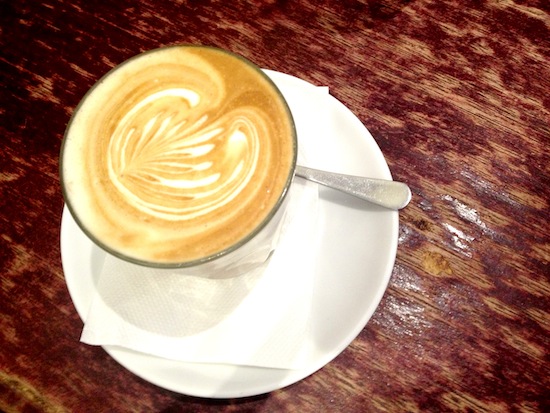 Perfect, no sugar required. We each built our own breakfasts from the "sides" part of the menu and I ended up with the perfect combo: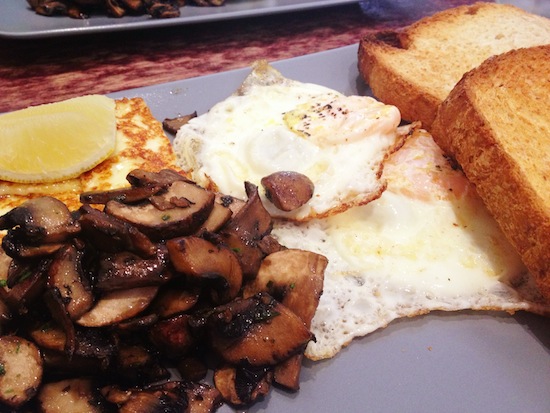 Two eggs over easy, wholewheat toast, mushrooms and haloumi in the back.
I gave a piece of haloumi to Max and left one of the pieces of toast on the plate, but aside from that I wolfed this meal down. It was exactly what I felt like.
We sat and digested for awhile, and then walked down to the sand.  How could anyone resist going for a walk when the weather is this perfect and the ocean is so calm?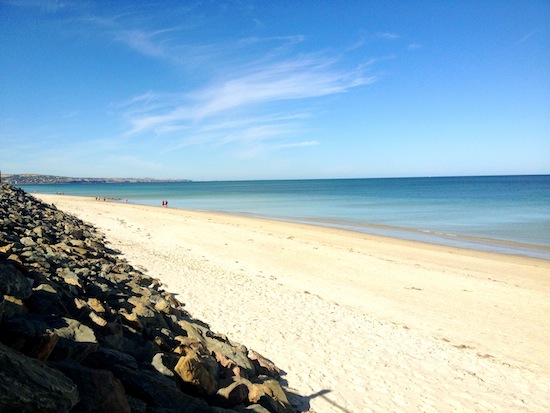 We walked for just over an hour total, and returned to the car tired but quite happy with our morning.  It was only 10am at this point, which is generally around the time that I am having my first coffee on most Saturday mornings.
Now it's time for study before we head into town to meet friends for a Fringe show in the Garden of Unearthly Delights later this evening. I'd better get lots of work done before then, so I'm off.
I'll leave you with the results from yesterday: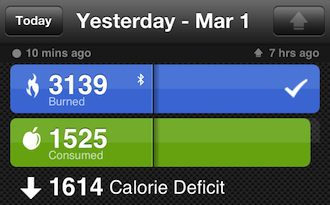 It was a big day but I'm proud of myself for sticking to my alcohol goal.
Back to reading for me. I hope you're having a beautiful Saturday and enjoying the weather (if you can)!