Hey, how was your weekend? I had such a lovely one that was full of a great mix of activities and down time. I've already written about Friday and half of Saturday, so I'll just quickly recap the rest of the weekend.
After I'd done a bit of study on Saturday, Max and I headed to the Garden of Unearthly Delights at the Fringe Festival to explore the new acts and see what had changed in the Garden from last year. We discovered several new food carts and more venues than ever before; the Garden just keep growing and growing!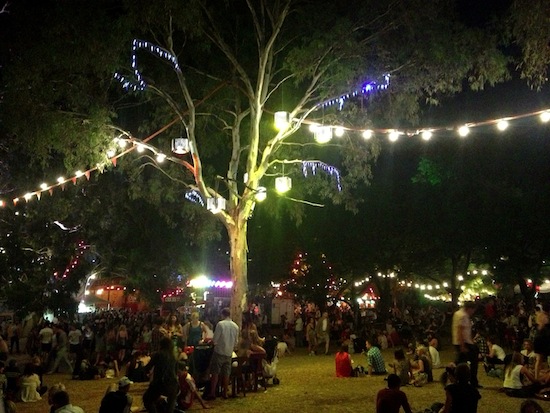 We ended up sharing a veggie Bing Boy in the early evening before we went to see The Candy Butchers, a circus/acrobatics show playing in the Big Top tent.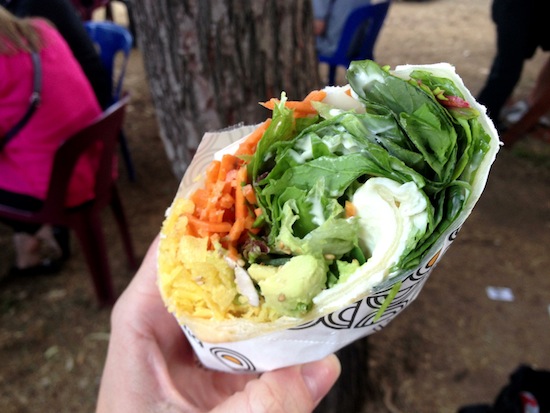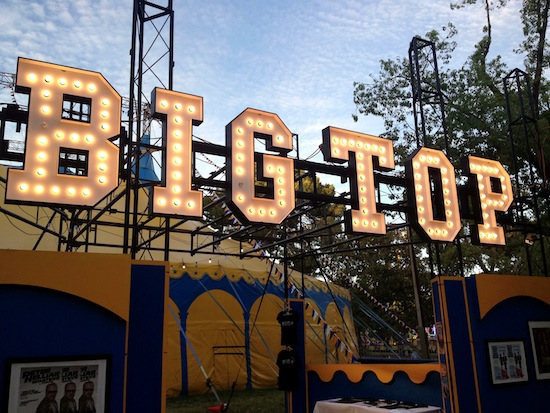 The bing was great, the show was not. We were so disappointed by The Candy Butchers. Not only did several of the performers completely miss or mess up their feature "tricks", but the show was kind of boring. There were a lot of scenes that seemed to be "filler", ie, a part of the show where one of the performers talks to a shovel and pretends to marry it, then accidentally kill it. This goes on for about ten minutes (it felt like 30) and was so sloooow. Not to mention that the seating in the tent was basically the equivalent of high school bleachers, but with a shorter gap between benches so when you sat, your knees were up around shoulder height…super uncomfortable arrangements for 60 minutes.
Anyway, long story short, the show cost us $38 each and was NOT worth it. Don't go. The worst part is, I realised about ten minutes into the performance that I'd seen it in Sydney about seven years ago! So now I've wasted TWO hours of my life on this thing.
After the 60 minutes of torture ended, we met up with some friends for some (soda water) drinks before calling it a night. On Sunday we were scheduled for an "active rest day", so we walked to the farmer's market to pick up produce for the week. The market is a little over two kilometres each way, so it made for a lovely recovery walk. We picked up some gorgeous veggies and ate some of them for lunch.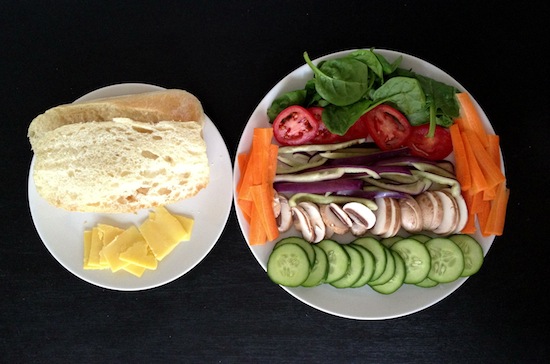 Assorted veg, including my first-ever purple capsicum (bell pepper), plus some fresh Turkish bread and Alexandrina cheddar for a lunch snack plate/make your own sandwich.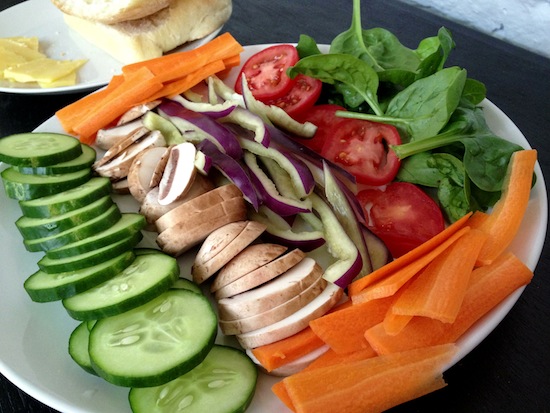 This lunch was so fresh and so tasty- an ideal Sunday meal.
The cat-shark thought it looked delicious, too, and spent her time circling for crumbs.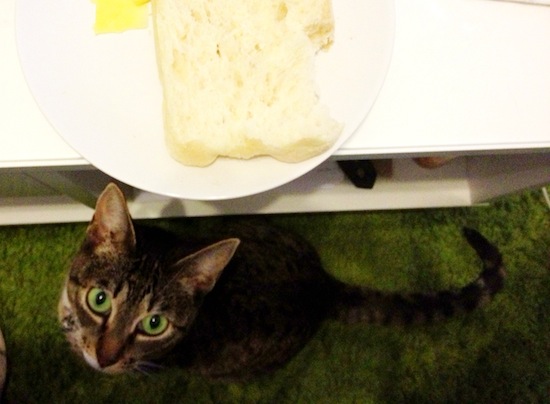 In the late afternoon, we met some friends for a few games of laser tag! It was a birthday gathering, and we had two teams of about eight people each. It's been awhile since I've played laser tag, but I ended up coming first (in points) for my team on the first game, and second for the second game! Our team lost both times, but I was still pretty proud of myself for dominating!
Laser tag was like another sweaty workout, so after showering and changing, we headed back to the Garden to hang out and grab dinner with the birthday crew. It was a super relaxed evening, and I managed to avoid having any alcohol again, which was great! It means I only had once alcoholic beverage for the whole week!
I had an absolutely fantastic seitan burger for dinner from the Veggie Galley.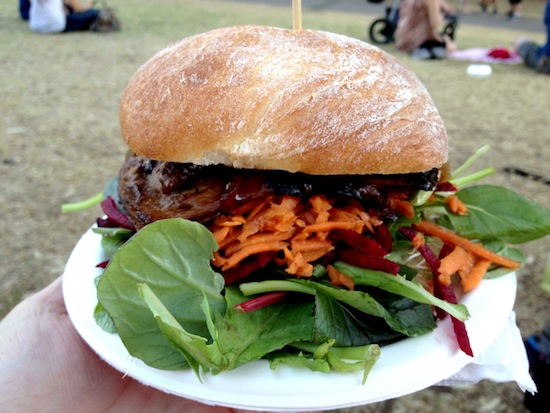 If you are looking for yummy vegetarian food in the Garden this year, definitely head to the Galley. It's well worth it!
My totals from Saturday and Sunday:
I'm pleased with both of these totals, especially for a social weekend!
This post is getting long, so I'll be quick with wrapping up today. I planned to do my workout in the evening, so I slept in until 7 15 this morning, which felt amazing.
I ate breakfast at desk, as usual, and finished off my Carman's muesli, paired with some fresh strawberries from the weekend's farmer market.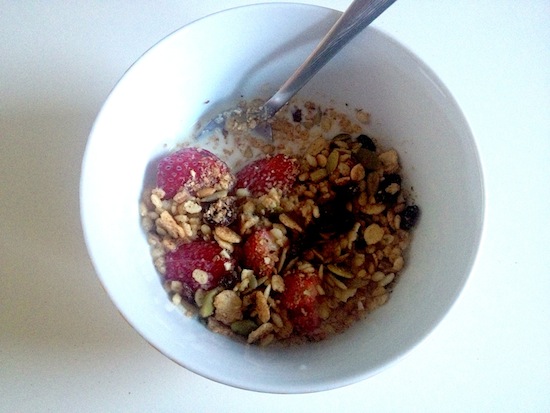 With unpictured coffee on the side.
I forgot my lunch today, so I grabbed a roll from the cafeteria.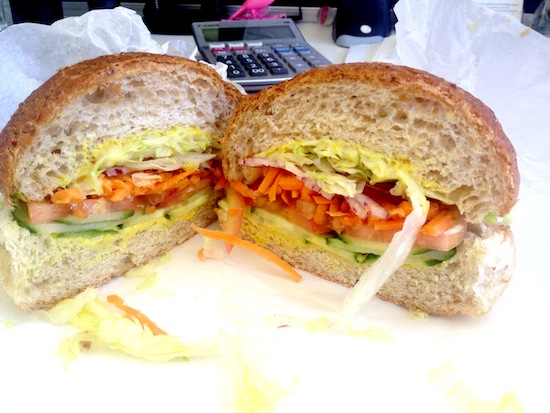 Whole wheat roll with mustard, lettuce, tomato, carrot, cucumber, tomato and red onion.
And had some grapes and almonds for a snack.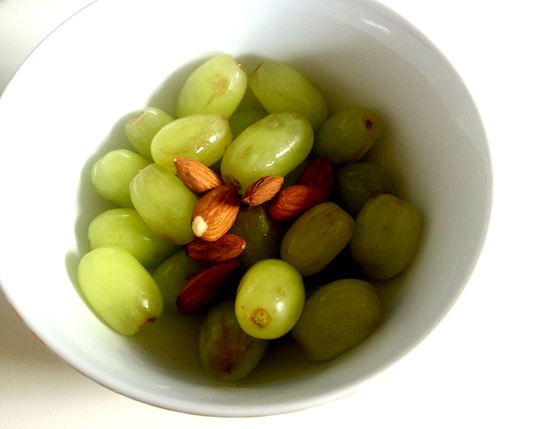 After work, I headed home and did some food prep for the week. I chopped up the veggies for tomorrow's dinner (anything Goes Thai Green Curry), made a batch of mini quiches for breakfasts this week, made some quinoa for use throughout the week, and made tonight's dinner/tomorrow's lunch (creamy broccoli and cauliflower soup).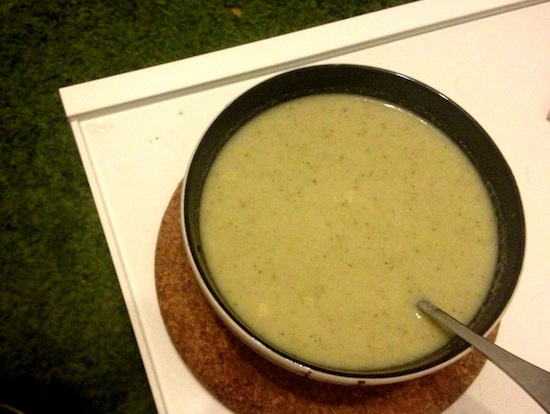 Though it looks particularly unappetising, the soup was really tasty. It was super quick and easy, too, which is a big bonus in my eyes.
After I cleaned up the kitchen, I did a bit of study before I met Max at the gym. We busted out a good 40 minutes of cardio (elliptical and treadmill for me). I've got a Body Pump class scheduled for 6am tomorrow morning, so I'm aiming to be asleep by 10 30.
Alright, that's enough of that! I'll see you tomorrow.
What was the highlight of your weekend?