Today started with another 6am Body Pump Class.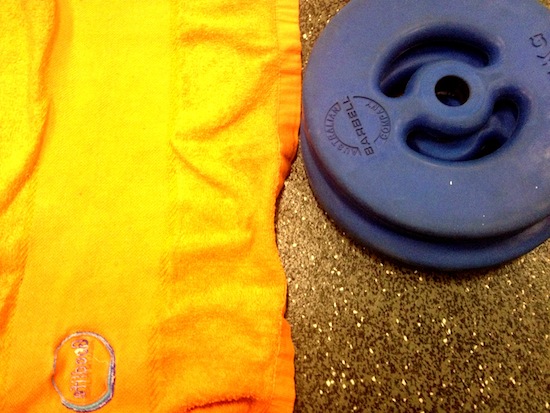 I loved it. Something about Body Pump just makes me crave it more and more. There was a time where I went to the 11am Sunday class religiously and missing a week made me feel incomplete. In those days, I felt so strong and able-bodied; I loved it. I'm looking forward to fostering a new relationship with this amazing class!
Max came with me to Pump this morning, too. He doesn't love the class like I do, but he'll tolerate it sometimes. After our workout, Max and I each had a Sunraysia Organic juice pouch, orange for me and tropical fruits for him.
I was sent these juice pouches a little while ago to review for the blog, and when I read that they were 100% organic with no artificial colours or flavours, no chemical pesticides, no GMO and no added sugars or preservatives, PLUS the packaging is completely recyclable, I couldn't resist.
There are four flavours in the range: apple, orange, apple & blackcurrant, and tropical. Here's a nicer photo that doesn't include my big old thumb: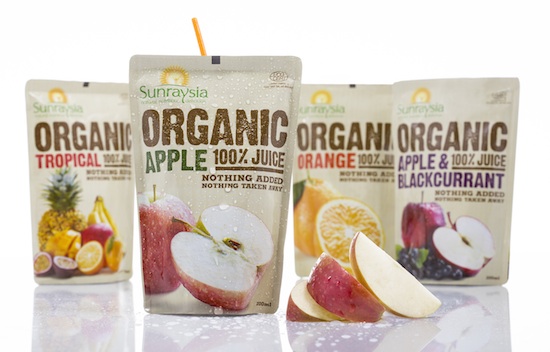 When I received the juices, the first one I tried was orange because I generally love orange juice more than any other type. I was surprised to find that I didn't love this orange juice, so a few days later, I gave the apple (normally one of my least favourite juices) a try.  It was delicious! How strange is that? I also really like the apple and blackcurrant flavour, but not so much the tropical one.
The only rationale that I can come up with to explain this apparent reversal in my juice tastes is that the orange and tropical flavours taste almost a little too sweet and concentrated for me, whereas the apple and apple/blackcurrant juices taste more natural (which is a bizarre explanation because all of the juices are all-natural, but hey, I can't argue with my tastebuds!).
Max, on the other hand, loves ALL of these pouches. He will drink them cold from the fridge or warm from the cupboard.  He loves them half-frozen and slushy or just pulled out of his gym bag.  No matter what form he can find one of these juices in, he'll drink it and ask for more.
Would I buy these juices with my own money? Yes, just to have some on hand for Max, plus I might pick up some of the apple flavours for myself to throw in my gym bag…especially since each pouch is somewhere around 85 calories.
Anyway, after the class, I managed to get to work by 7 45am, which was nice. I like the peaceful quiet of the office before too many people arrive. I ate my breakfast at my desk.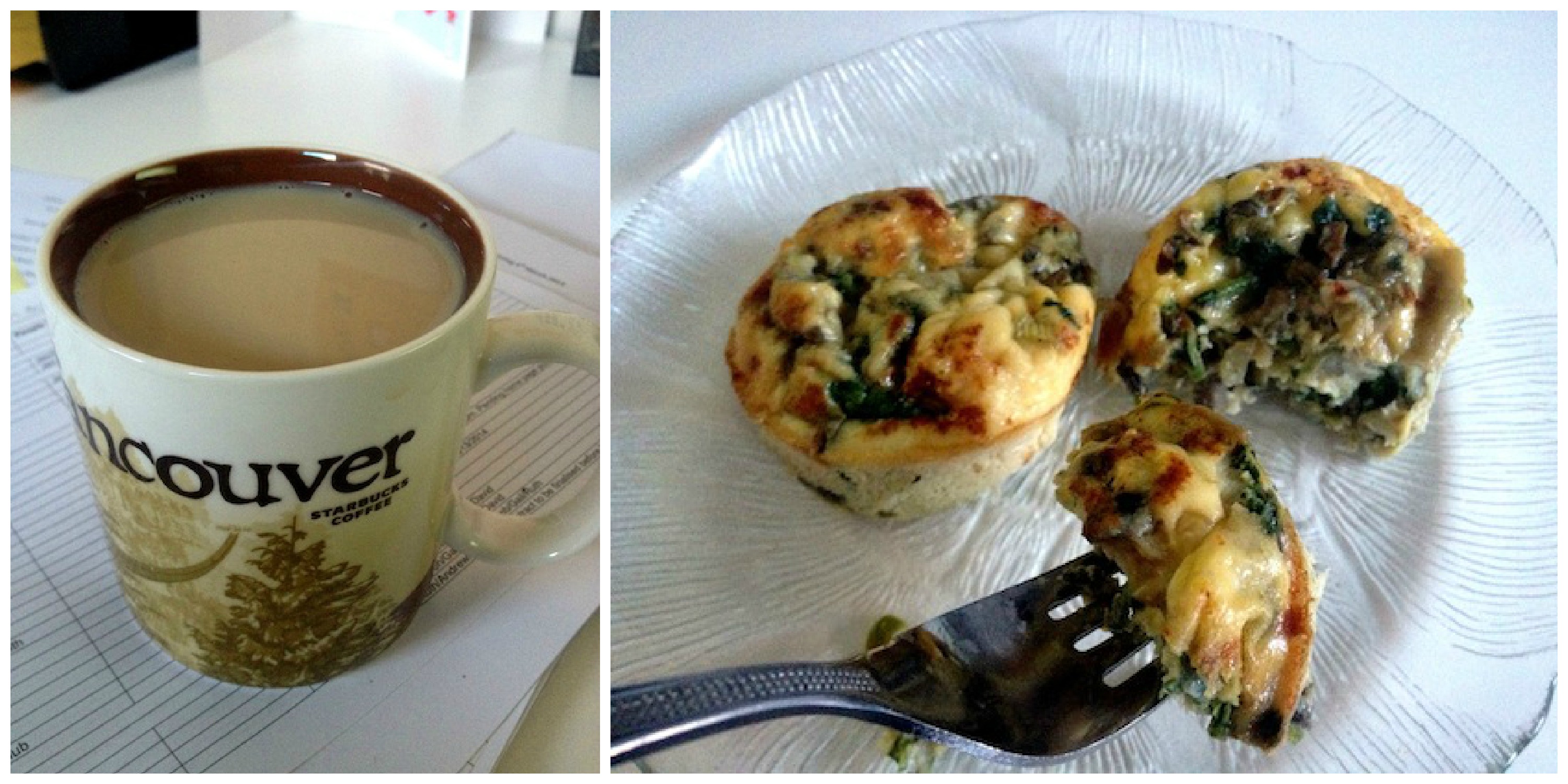 Coffee with soy milk and two of the mini quiches I made yesterday. These turned out so well! They are rich and decadent tasting, but with good nutritional stats and lots of veggies packed inside. Plus, they reheated perfectly and tasted fresh. Not bad for a super-easy cooking session last night!
Around noon, I heated up my leftover soup from yesterday's dinner.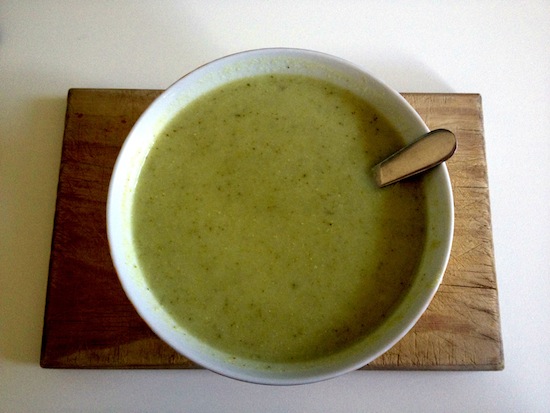 When I pulled it out of the fridge and opened the lid, it smelled so bad. Broccoli and cauliflower don't exactly exude a pleasant fragrance once they've been cooked, but once I heated it up, the soup smelled fine and tasted great.
Later in the afternoon I had my peanut butter and apple.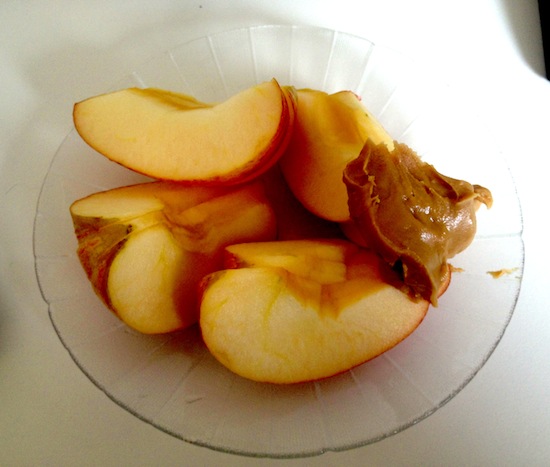 This apple was on its last legs so it needed to get used up.
By 3pm my eyes were closing at my desk. I'm still not used to the early mornings, I guess. As soon as it was responsible to do so, I hit the road for home and spent a few minutes relaxing on the couch before starting to make supper.
Dinner was a hot bowl of my Anything Goes Thai Green Curry with tofu.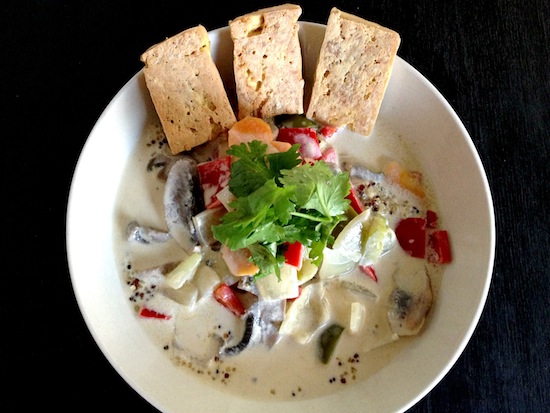 And I do mean hot! I added some extra chillies to the pot tonight and it was pretty spicy, just the way I like it. This curry was full of carrots, onions, mushrooms, green and red peppers and coriander, all served over a little bit of quinoa;it was really filling.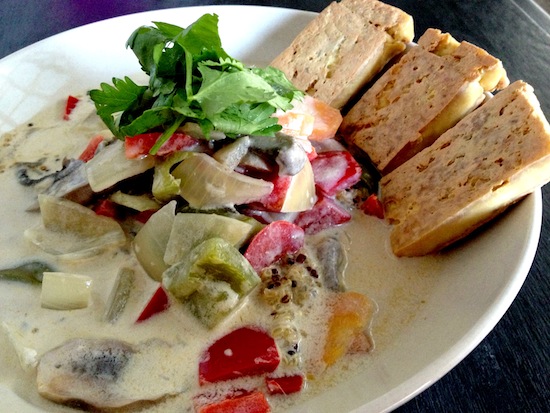 After we finished eating, Max and I hung out and watched some of season two of Revenge. Love that show! We are only up to episode four, and I'm sure there are all sorts of twists on their way.
I'm hoping to get to the gym early again tomorrow. I love the early morning atmosphere there since there aren't too many people around (it opens at 6am), plus the benefits of getting to work early are compelling. With that said, I think it's time to pack my gym bag and get into bed.
Last minute calorie recap from yesterday: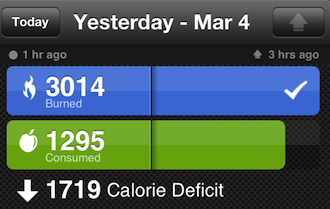 I had a serious stomach ache last night, so I didn't eat as much dinner as I'd planned. I was going to have some tofu and salad with my soup, which would have bumped my calories up to a more nourishing 1650 or so, but I could really only stomach the soup. I made up for those missing calories tonight by having the some delicious vanilla gelato for a snack…no picture because I ate it way too quickly!
Do you try to finish up produce that's looking a bit weak, or do you toss it?
Disclaimer: I received free Sunraysia Organic juices for review but was not compensated in any way for this post. My opinions, as always, are my own.