Hello! I've just realised that I forgot to post my Week Two 12WC goals earlier this week.  Oops.  I did send them to trainer Ben on Monday, but I forgot to post them here…so much for blog-countability!  So here they are, as well as my overall goals for the challenge: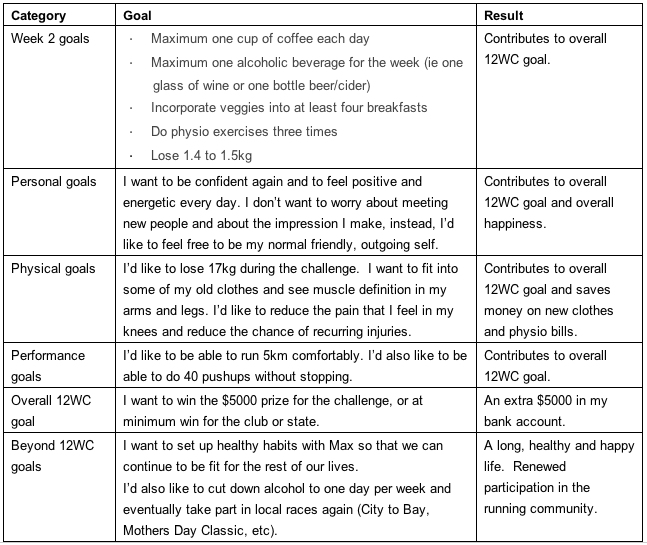 Like I mentioned last week, I want to continue reposting my overall goals so that I am reminded every week of the reasons that I am working so hard on this challenge.  My weekly goals just (hopefully) feed into those end results.
So. Week Two. There's nothing really too crazy here, except maybe the removal of some of my daily coffee! Every morning, I drink two mugs of coffee, and I've been trying to ignore the fact that my big Vancouver mug holds 440mls (aka, nearly two cups).  This means that each morning I actually drink nearly FOUR cups of coffee, all while telling myself that I've done well to stick to two… One of my goals this week is to cut it down to one mug, or nearly two cups.  I've been going really well, and maybe next week I can bring it down to one "real" cup.  I don't even really miss the extra java; I don't think I'm addicted to coffee like some people say they are, I just really love the taste and the morning ritual.
Another goal is to limit myself to one alcoholic beverage this week.  Last week I set a limit of two drinks, but only ended up having one, so I thought I'd bring that number down again this week and see how I go.  So far, just like the coffee, I haven't really missed having booze.  The only times it's been tough is when I'm with a bunch of friends at one of the amazing outdoor festivals that Adelaide hosts at this time of year, and all I can think about is how refreshingly delicious a crisp bottle of cider would be.  But, I've resisted, and have been sleeping better and waking up earlier as a result.
Goal three is to incorporate veggies into at least four breakfasts this week.  This is an attempt to limit my fruit consumption for the day.  Ben reminded me last week that fruit, though healthy, is full of natural sugar, and sadly, sugar is sugar regardless of whether it's natural or not.  So, I'm trying to replace my usual breakfast fruit with veggies, hence why I made those veggie-packed mini quiches the other day.  Weekends are usually easy for veggie-breakfasts since there's more time to make mushrooms on toasts, omelettes, etc. So far I've only had veggies at breakfast once this week, so to hit my goal of four days, I'm going to need pay attention to that over the next couple of days.
My last two goals are carried over from last week.  I failed at completing my physio exercises and foam rolling in Week One, so I'm trying to focus harder on that right now. I actually did some foam rolling last night and found a few hot spots in my hips and legs; rolling them out helped so much for my morning workout today.  I love it when non-scale goals pay off! As for the 1.5kg, all of my numbers indicate that I should get close to dropping that weight, though I won't really know until I hop on the scale on Saturday morning.
Phew! Enough goal talk for now! I started off the morning with an early workout! I headed to the gym at 6 15am to meet Max, who had intended to take an RPM (spin) class, but didn't get a ticket.  The poor guy had to work out with me on side by side treadmills.  I watched the news with the earbuds in and didn't even talk to him…worst girlfriend ever!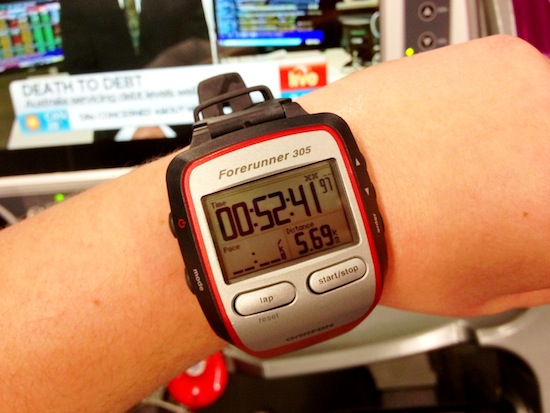 I covered a bit over 5.5kms and worked a little bit of running and inclines in there.  It was a sweaty session and I felt really tired after. I got to work before 8am again and had a mere ten minutes of quiet solitude before my officemate came in.  I made breakfast while he settled in.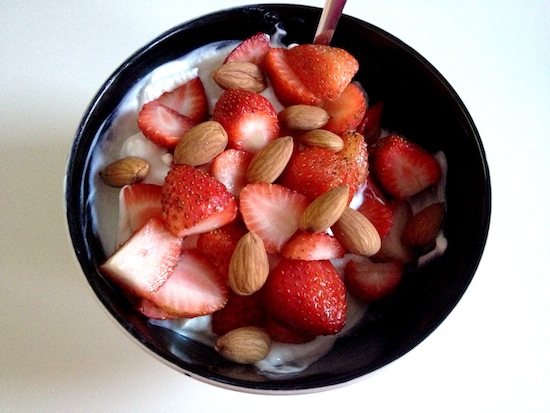 Chobani plain 0% with strawberries and almonds.  Yes I know, this is not a veggie-full breakfast, but Chobani has just made its way to local shops in Adelaide and I wanted to give it a try.  It was pretty good!
This breakfast held me over until noon, at which point I got super hungry and could hardly wait for my leftover Thai green curry and quinoa to heat up.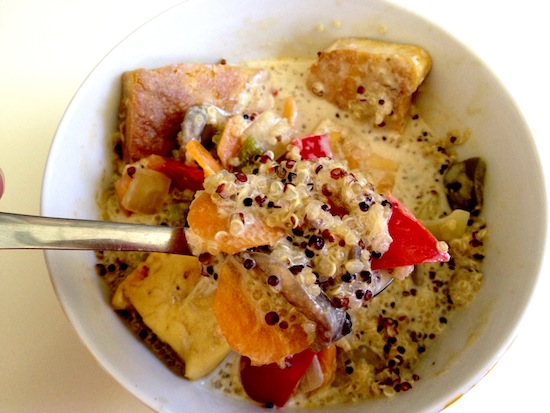 It was even more delicious than last night, though I sadly forgot to pack any fresh coriander, which I definitely missed.
My snack later on was a crunchy Adelaide Hills apple, which I forgot to photograph.  But you know what an apple looks like. It was much fresher and tastier than yesterday's apple!
After work I did a bit of grocery shopping because my usual grocery store doesn't sell tofu or tempeh.  It's ridiculous. Once I'd picked up a few essentials I headed home, did some cleaning, and got started on dinner. Max had requested that I teach him how to make my Tasty Tempeh Tacos because a) they are one of his favourite meals and b) he wants to be able to make them for me when my study load gets stressful and I don't have time to cook.  Yeah, he's pretty great.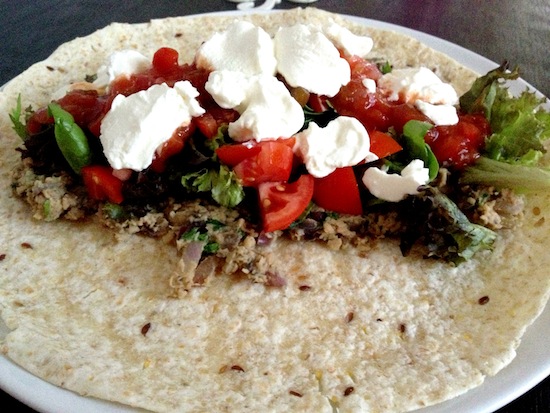 So we made the tacos together and had a nice meal before he headed off and I settled into a night of studying, which I'm taking a break from now in order to chat with you. As soon as I'm done this post I'm going to do some more foam rolling, take a cool shower, and head to bed.  I'll tell you what, since I started doing morning workouts, my bed has never been comfier or more welcoming.  Even in the heat (we're having a string of over-35C [95F] days and the temp inside my house is hovering just above 30C on a good day), I'm falling asleep super quick! It's been a great side effect of getting up so early.
Yesterday finished off pretty well, though my deficit wasn't quite at "lose 1.4kg per week" levels, it was still ok.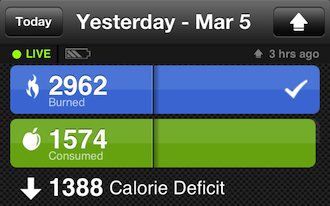 I'm off! Please tell me some of your goals for this week/month/year…I want to hear more about you!