I've got a great giveaway for you today as part of Product Talk with Nuffnang! More details at the end of this post…
__________________________
Fridays are always very busy days for me, but I love that they are a fast and furious finish to the week and start to the weekend, all in one. This morning started with an early 6 05am Body Pump class. The class starts a few minutes past the hour because the gym doesn't open until 6am.  I normally arrive at about 5 58am and this is what it looks like outside: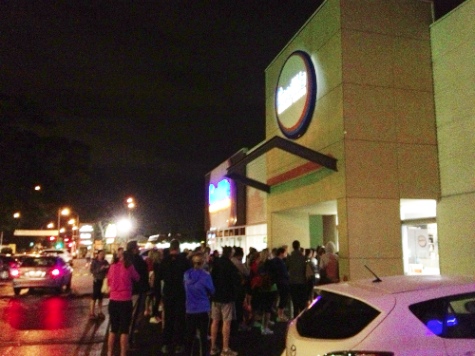 Yes, that is a group of about 40 people (and more arriving by the minute!) lined up in the pitch black, cold pre-dawn hours, waiting for the gym to open. It's like this every morning! Why are we all so crazy?
Once we got inside, I met up with my friend Jess and set up our weights.  It was an awesome class this morning; our instructor is very enthusiastic and informed us that he'd woken up at 4 45 that morning in order to learn the new Body Pump release and run through it with us, even though it's not officially out until tomorrow. The tricep track was a killer, as was squats, which lastedfor six minutes and had my elbows sweating. For real.
I got to work around 7 45am and sat down with coffee and a giant pancake that I brought from home.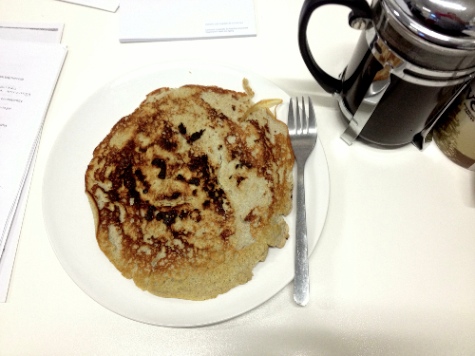 I finally caved and tried this two-ingredient paleo pancake that everyone raves about; it's just two eggs blended up with a banana into a smooth batter, then cooked low and slow in a pan (and re-warmed for 25 seconds at the office).  It was actually really nice! I cooked it in coconut oil and it was a sweet, filling breakfast that had a great pancake-y texture.
Mid morning, I snacked on a serving of plain Greek yogurt.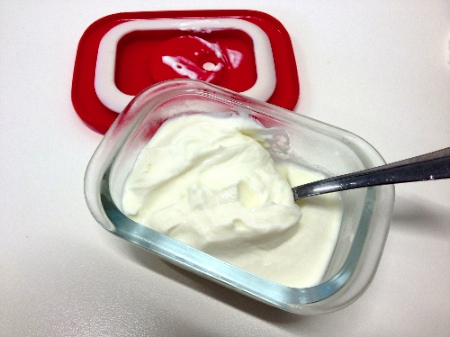 Yeah, this pretty much tasted like straight sour cream.  I forgot that Greek yogurt is not really very delicious on its own. Noted for next time!
And for lunch, I had leftover sweet potato "pasta" with my homemade sauce, plus a salad with greens, radicchio and snow peas.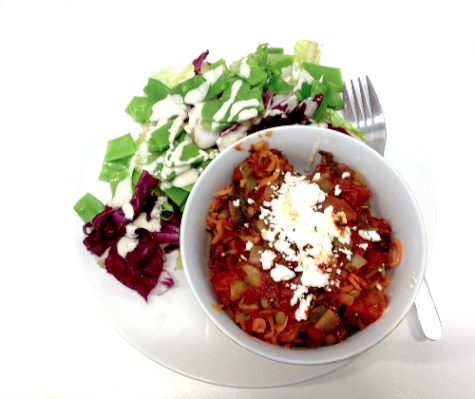 This sauce was full of lentils for protein, plus other delicious things like kale, mushroom, green pepper and onions. I topped it with goat cheese for added creaminess.
For my afternoon snack, I had my usual almonds, but I was craving something a little bit sweet to add to them. Sugar is a no-no on Body Trim, so I decided to have a couple of squares of AntiOx chocolate, an antioxidant rich, sugar-free dark chocolate that is studded with superfood additions like goji and acai berries.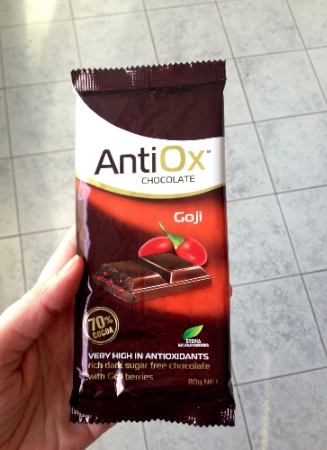 I should mention that I'm a bit picky with my chocolate. I won't eat Dairy Milk or most bars containing milk chocolate as I really don't like that weak, waxy taste that most commercial chocolate has. Luckily, AntiOx did not disappoint!
I tried the goji berry version in my chocolate chunk pancakes last weekend (yum!) and decided to try the acai version today. I've never tasted acai so I wasn't sure to think, but it was delicious! I'm usually not a fruit-in-chocolate type person (give me nuts any day!) but the fruit chunks are really small and give more of a hint of flavour than anything else. The taste was comparable to any nice and dark, smooth chocolate and was the perfect match for my almonds.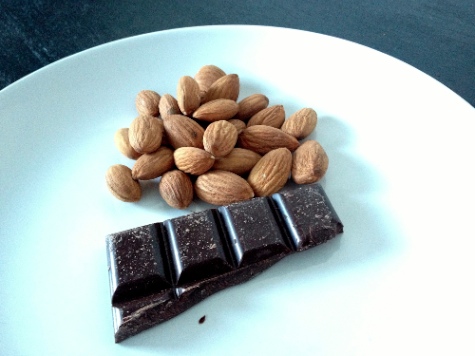 AntiOx also sent me their snack bars to try.  The bars come in chia and quinoa, goji, and acai varieties, and are coated with that same sugar-free dark chocolate. I had to wait for my free day to try these, but I'm glad that I did. They are soft and chewy, and a nice alternative to granola (muesli) bars, which I've stopped buying because of all the added sugar. There are only two downsides for me here: in general, I prefer snack bars that are based on flavours like peanut butter, coconut, vanilla, etc, rather than berries, and these bars are a bit high in carbs for my current Body Trim style of eating. However, they're easy to throw in a purse or gym bag for hunger emergencies. I also think kids would probably really like them.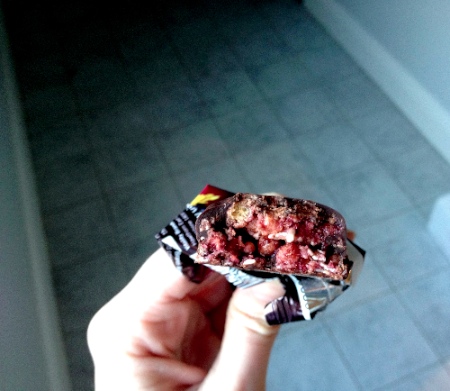 Giveaway
The best part is that AntiOx is offering a prize pack each to two separate winners! Each pack includes 6 x AntiOx snack bars and 4 x AntiOx chocolates, which is enough to share…if you're feeling generous!
To enter to win, tell me why you want to try the new AntiOx snack bars and chocolate in the comments section.  Pretty easy! Two winners will be chosen on Friday 28 June, so be sure to share this giveaway before then with anyone who you think might like to enter!
Disclosure: I received five AntiOx products to sample and review, but was not compensated for this post. Opinions expressed here are, as always, honest and 100% my own. Open to Australian residents, terms and conditions are available here. Even if you don't win, you can head on over to the AntiOx Facebook page; anyone who signs up there will receive one free AntiOx snack bar.
___________________________
Tonight I'm headed out for dinner and a movie with Max- I'm really looking forward to a relaxed date night out on the town! It's turned from a gray, drizzly afternoon into a clear and cool evening, so it should be a great night for strolling through our fair city. Have a great Friday!