Well, I weighed in this morning and was back up a half kilo. That was pretty frustrating! I have been keeping track of my calories and following Body Trim this week, so I know that I haven't actually gained 500g, but regardless, seeing that weight change go in the wrong direction can be disheartening.  I'm trying to put it behind me and move on with the week. 
In other news, let's talk about the weekend! How was yours? I had a super busy one, which leads to some Things From the Weekend:
Helping friends move is a workout in itself, especially when the one-two punch of DOMS from Thursday's PT session and Friday's Body Pump class hits all at once!
In related news, Sunday's planned run was postponed to Monday.
Max and I used to go out for Indian food almost weekly, to the point where I got burned out and haven't had it for months. Friday night's dinner at Taj Tandoor on Rundle Street may have reignited my passion 
Mutter Paneer and naan, because that's one carb I can't refuse. 
'The Internship' is the first movie I've seen in months.  The verdict? Silly, but funny and entertaining. Vince Vaughan is my favourite comedic actor, and Owen Wilson is pretty great too, so I was expecting a good laugh…The Internship delivered! The fact that we saw it at the Palace Nova, which is a licensed theatre, probably helped with the giggles.
There is a winery, called Patritti Wines, in the middle of the Adelaide suburbs. Did you know this? Not only that, but it has been there for a really long time (87 years!) and is surrounded by homes and schools. Yet this place produces a huge variety of wine that you would simply not expect from a facility in Dover Gardens. Patritti Wines was started by Giovanni Patritti, who came to Australia from Italy in 1925 and landed his first job selling ice cream in the Botanic Gardens here in Adelaide. Within a year, Patritti was leasing vineyards in the very location where the winery stands to this day, making wines for the other "new Australians" (I'm one of those!) with his best friend. Nearly a century later, Patritti is the only family-owned, fully operational winery and cellar door located in an Australian capital city. Max and I particularly loved their Grenache, traditional sparkling, and JBP Shiraz.
Walking Misto on a lead in the garden is pretty much the best thing ever.  At first she was terrified but then she started sniffing all sorts of new smells and ate a big hunk of grass. 

I've highlighted the tiny little thing because, aside from her pink harness,  she blended in to her surroundings very well. It was a big day for everyone. 
The weekend ended with a games night with friends.  We played The Price is Right, which is a lot of work for a board game, and Cranium, aka my perfect weekend activity. 
I'm struggling to believe it's already Tuesday! Aside from my weigh in this morning, I did have a great workout at Body Pump (I upped my back and hamstrings weights) and the day at work flew by. Dinner was these lovely fajitas, wrapped in lettuce rather than tortillas.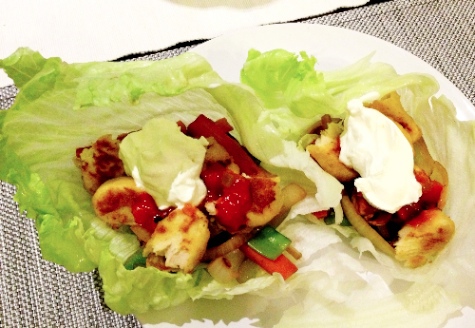 These had onion, carrot, green bell pepper, snow peas, mushrooms, Quorn "chicken" pieces, salsa and sour cream. I may actually like the lettuce version better. It's so light and fresh!
At the moment Max is giving me a back rub while watching the Socceroos play against Iraq, but I'm hoping to talk him into  another episode of the Walking Dead in a moment. So with that, I'm off!
What did you do this weekend?
Don't forget to enter to win one of TWO antioxidant-rich AntiOx chocolate packs in my giveaway!