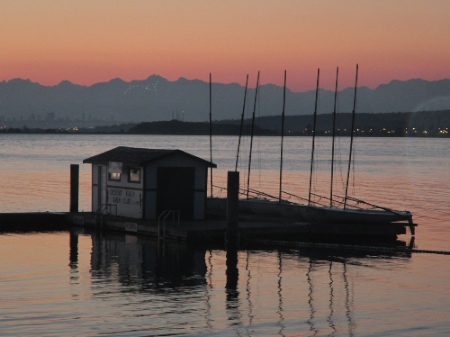 Sunset at Crescent Beach, BC
What a whirlwind the last few days have been! I arrived home from my month-long holiday on Friday afternoon, and promptly spent that day working on laundry and unpacking, and sharing our engagement news with friends and family. Max and I visited his workplace to celebrate with his colleagues, then headed to a friend's house to spring the news on our group. It was really fun to see how enthusiastic everyone got and to talk plans!
Saturday and Sunday were all about the farmer's market, more laundry, and relaxing as the jet lag sank in. We also had the chance to have dinner with Max's family and toast to our future together. It was great to catch up and chat with the people we love this weekend.
Now I'm back at work and can't believe it's Tuesday already! Yesterday flew by as I told my workmates my big news, cleared my inbox and sat through a few meetings to catch up on what's what. Luckily, I'd been checking in on my work email while I was away and taking care of any really urgent issues, so there weren't too many surprises waiting for me.
Now that I'm back, I've had a chance to reflect on how well I managed my health and fitness over my holiday. I thought that the easiest way to see how I've gone is to give myself a Healthy Holiday Report Card. So, here is my honest report on my vacation health efforts:
Healthy eating: B
I didn't eat horribly on this trip, but I didn't go out of my way to make great choices, either. Max and I had booked several special dining experiences, including the Chef's Table at Napa Rose in Disneyland, and I wanted to enjoy these events to their fullest, so I ate freely and happily when we were at special meals. On the other hand, our day-to-day meals with my family in Canada were simple and healthy, and we consumed far less alcohol on this vacation than we would have if we were in, say, Bali or Las Vegas. In the end, I gained about a kilogram while on holiday.
Exercise A-
I walked a lot on this trip. One day at Disney, we walked to the parks at 6 45am and didn't walk back to the hotel until 12am. It was a looong day, and there were plenty more like it throughout the holiday. I spent a good part of nearly every day walking, and I even managed to fit a couple of runs in, too (one in Victoria BC, one in Winnipeg MB). Randomly sprinkled throughout the vacation were sets of tricep dips, pushups, and planks, but I'm talking one of each on limited occasions. I really failed at getting any strength work in, but when it came to walking and cardio, I rocked it!
Stretching C
I could feel my IT bands screaming with every step after our flights out of Australia, but I did a really poor job of dealing with that. I did a few static stretches here and there, but I didn't take the time to give my body a good stretch or yoga session, and I'm regretting that for sure.
Relaxation B+
I wouldn't call this holiday relaxing (we only had three "free days" built into the whole month!), and we were on the go for most of it, but from a mental standpoint, I was definitely relaxed. I checked into work occasionally but not obsessively, I took a break from blogging, and I caught up with a lot of people who I love dearly. That sounds pretty good to me!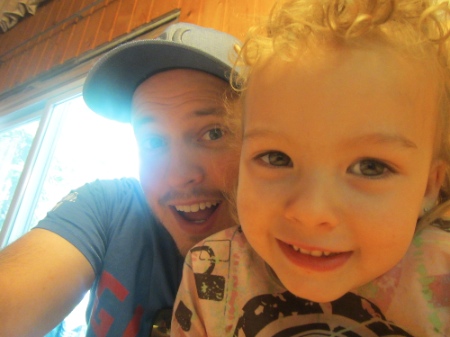 Max hanging out with my adorable niece
Fun! A+
I loved every minute of this trip. The weather was perfect everywhere we went, I deepened relationships with friends and family, I got to see Max meet my extended relatives, I stayed busy with a ton of awesome activities and new experiences, and I got engaged! Honestly, can you think of a trip that's any more fun than that?
~~~~~~~~~~~~
So what's the plan now? Well, with a wedding in the works, I'm going to be upping the amount of time that I spend exercising each week, plus buckling down on my nutrition and tracking it really carefully. Given that we're planning to wed in about 14 month's time, that gives me 60 weeks to lose 30kg, which is ½ a kilo each week, or 1.1lbs per week. I think that's a pretty reasonable goal (much more so than my 12 Week Challenge goal!) that I can reach in a sustainable and healthy way.
To kick off my bridal shape-up, I've started another three-day protein-only carb detox, as recommended by the Bodytrim program. For whatever reason, the detox has felt much easier and more manageable this time around than when I first tried it over a month ago. I have been making an effort to eat whole foods and have cut out the processed protein "treats" that Bodytrim sent me to try, which may have something to do with it. Regardless, I'll still be glad come Thursday when I can dig into my favourite veggies with abandon!
Let's see, what else do we need to catch up on? I have a couple of recipes that I keep meaning to post for you, but aside from that I'll be adding some vacation recaps to the blog, too. I'll probably stagger them as I finish them so that you don't get a big pile of updates all at once, so look out for those in the coming weeks.
Finally, thanks so much to all of you who have extended congratulations and well wishes via comments, emails, tweets and messages! I'm so excited to be marrying such a wonderful man, and Max and I both value and appreciate all the support we've received already!