Things have been a whirlwind around here, in a good way, but a little crazy nonetheless. Since we will (hopefully!) be having a fair few wedding guests over from Canada for the big event, we are trying to lock down a venue and date asap so that we can send out save-the-dates and give my friends and family over there lots of time to make plans for an epic Australian holiday. As such, it's been a really busy couple of weeks as I draw up spreadsheets, try to carve out time to see venues, compare quotes and call vendors all while working full time and undertaking another uni course.
But! I'm having fun with it all and really enjoying the process, and once a venue and date are decided, there will be lots of time before I really need to worry about much else! So I'm certainly not complaining about the general state of chaos that my life is in at the moment. It's exciting stuff!
In non-wedding/work/uni news, I've been really pleased with my 'life schedule" since returning from holidays.  I've been sticking to the Bodytrim style of eating and have enjoyed some really delicious meals lately: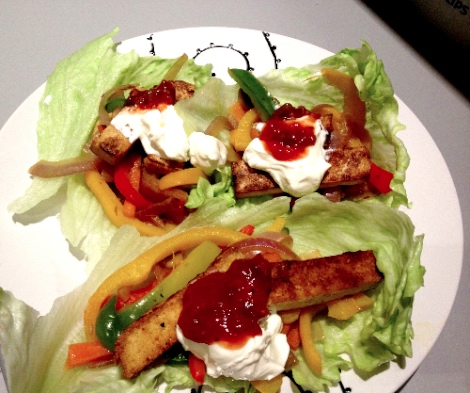 Tofu fajita lettuce wraps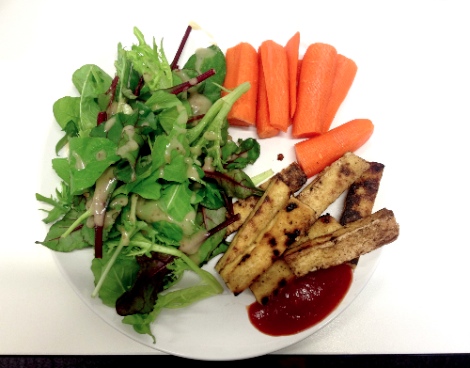 My standard work lunch these days: tofu with ketchup, carrots, and a big green salad.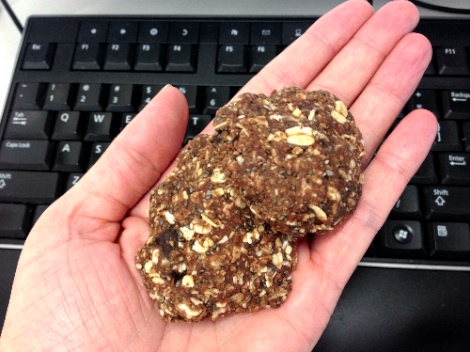 Superfood cookie bites (recipe coming!)
Plus, Max and I drew up some health goals together as part of Operation: Wedding Fitness, and it's been great fun to dive straight into our efforts. Here is what an ideal week looks like these days:
Sun – rest or walk
Mon – run or Brazilian Bum Lift video (more on these another day!)
Tues – early morning Body Pump class
Wed – run or Barre class (I had my first one tonight- more on this below)
Thurs – personal training with Ben
Fri – early morning Body Pump class or rest day if too sore from PT 
Sat – "fun" workout (ie hiking, kayaking, dancing, etc)
Of course, if I need an extra rest day I'll take it, but so far so good! I'm proud to say that since returning, I've stuck to this schedule every day and I'm feeling really energetic and happy with my progress…which brings me to my new Wednesday post series called "Wednesday Wedding Weight-loss Weigh In"!
Too much?
Maybe a little.  Let's just call it Wedding Weigh In for short, shall we? In any case, I'm pleased to report that I'm down .9kg (1.98lbs) this week! My goal is to lose somewhere around 30kg before the wedding, give or take a little bit, which means I am aiming for something around .5kg (1.1lbs) each week for the next 60 weeks.
That's a loooong time to stay motivated, so hopefully reporting in to you fine people each week will help! I'd love to hear about your health and fitness goals too…we can keep each other accountable!
So back to Barre class…I've heard about the classes a lot lately, but mostly through bloggers based in North America. I had a look around for classes in Adelaide a few months ago, and couldn't find many options, so I forgot about it for awhile.  A few weeks ago I decided to have another look and, lo and behold, there is a Pilates studio just down the road from me that also runs Barre classes! 
I promptly wrangled my Goodlife 12 Week Challenge gym buddy, Jess, into going along with me to see what the all the hype was about, and so we trotted into the studio this afternoon after work, ready for a "fun" class.  
OMG. It was so hard, guys. I've never felt pain in my life like I felt today.  It was an hour of endless pulses, bends, "up on your toes!", "pull in your tummy!", "dip just an inch lower!". It was so tough, and ten minutes in I thought, "I'm never doing this again. This is the worst". 
By the end of the class, my legs were shaking and burning, I was soaked in sweat, I had to pry my engagement ring off my finger, and  Jess and I turned to each other and said…"I loved it!"
Yes, it was extremely difficult and very different from any exercise I've done before, but I really think that's a good thing.  If I can spend a few days a week lifting moderate weights at Pump, a day doing HIIT and heavy weights with Ben, a day doing my own cardio, and a day doing this sort of muscle work at Barre, I think I'll have a really well-rounded and effective fitness routine going.  Not to mention that you have to book online for class, and if you cancel within 24 hours, you forfeit your class fee, which is a great motivator to get you to the studio! I think I'll give it a few more tries and see if I can improve with time…it's a new challenge. 
Have you ever tried a class like Barre?
What are your fitness goals these days?