The other day I headed out for a run and decided on a whim to try a new app that I bought months ago.  I can't remember why I bought the app or where I heard about it, but it's called Zombies, Run! and you guys…if you like zombies and like running, you have to buy it!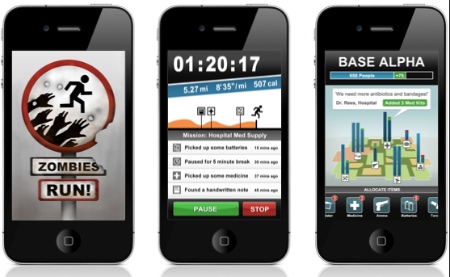 The basic premise is that the app tells a story, and you are the protagonist.  So you put your headphones in, and you're transported into a post-zombie apocalypse world where you and a handful of other survivors are trying to rebuild Able Township.  Everyone in the township has a role to play, and yours is that of a Runner…someone who is sent outside the safe gates of the town to pick up necessary items like medicine, first aid kits, ammo, and clothing. The story is told mostly through radio transmissions, as if you are wearing a headset that the township base can use to speak to you as you perform your running duties. 
The coolest part is that the app has the ability to enable "zombie chases".  You turn on a speed tracker within the app and click "yes" to the zombie chase function, and voila…the zombies will come after you!
On my run, the radio operator at Able Township told me that a herd of zombies was ambling in my direction. "Run…..RUN!" he yelled in my ear.  Then I heard the low grumbling and growling of zombies, and it was enough to make me take off, fast. As my workout progressed, I "picked up" items like food, a sports bra, a first aid kit, files from the CDC, and more, and if a zombie herd caught up to me, they stole my items. 
In between transmissions, the app played a song from my playlist, which made the quick sprints a lot more fun.  The app played updates over the songs on occasion; short message like "the zombies are approaching" or "you picked up some ammo".  
Gamers might like the fact that at the end of your workout, you can go online and use the items you collected to build up the township.  I haven't really looked at this part of the app yet, but I think there is a full online game built around it where you operate as part of the township and your runs are the only means you have to collect more items to enhance your life there. 
I've only done one run with this app and I think you can tell that I loved it! I really encourage everyone who need a little kick in their running pants to give it a try.  Zombies, Run! made me run so, so much faster than I normally would, kept me alert and interested, and had me carefully sizing up every person that I walked past me or happened to come out of their garage just as I ran by.  When I looked at my Runtastic tracker after my workout, my pace was much, much quicker than it has been in ages…this app was just the thing to get my butt in gear!
I just re-read this post and it sort of sounds like an ad, but I promise no one asked me to talk about this app.  I just loved it so much, and I want everyone to be able to spice up their workouts! I have version two, which includes seasons one and two. It cost around $4, I think, and I've already talked Max into going out on a zombie run too. Now get out there and run from those zombs!