On Saturday night I found myself standing with Max in a busy parking lot, surrounded by a hundred other people dressed in white from head to toe. We were waiting for buses to arrive and whisk us off to the first ever Diner en Blanc in Adelaide, an elegant outdoor group picnic that requires its attendees to wear white, bring only white tables and chairs, and behave with the utmost decorum.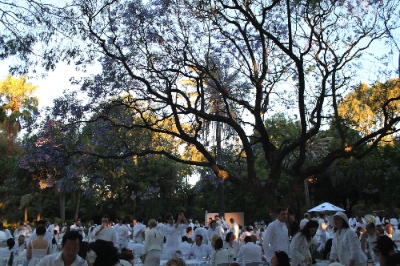 Our bus arrived to pick us up shortly after 6 30pm. We stowed our card table and two folding chairs in the coach's storage chambers, hefted our heavy esky and soft cooler up the bus stairs, and took our seat for the ride to the mystery destination where that night's meal would be had. Joy, our bus organiser, stepped onto the bus, complimented everyone on their amazing outfits, and told us…we were going to the zoo!
I first heard about Diner en Blanc sometime last year when my friends in Vancouver posted about the event on Facebook. I didn't pay much attention to it until somehow, somewhere, I heard through the grapevine that the event was coming to Adelaide. Started in Paris 25 years ago, Diner en Blanc is now a tradition in cities all over the world, and I headed to the official website months ago to sign up for the invitation waiting list.
The only way to be invited to Diner en Blanc is to be endorsed by someone who is currently a 'member'; which means they have attended the event before. If you are not endorsed, you join the waiting list. About five weeks before the event, I was sent an email with the details and an invitation to become a member. I signed Max and I myself up, and our Diner en Blanc journey began.
The event was amazing. Over 750 Adelaideans gathered at the Adelaide Zoo, set up white tables with beautiful centrepieces, and laid out their own spread of food that had me eyeing up other people's tables with envy.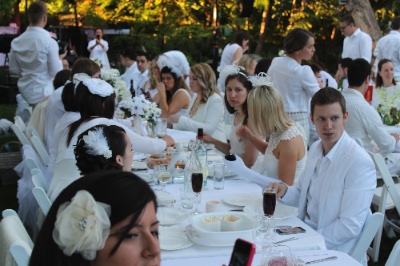 Aside from the long rows of tables, there was a stage, lighting, and a rotunda area where you could pick up wine and food (both had to be pre-ordered weeks before the event).
Max and I had a spread of wine, sparkling water, cheese (vintage cheddar, goat, and Brie), fresh bread, dips, salads, and mini-cakes for dessert.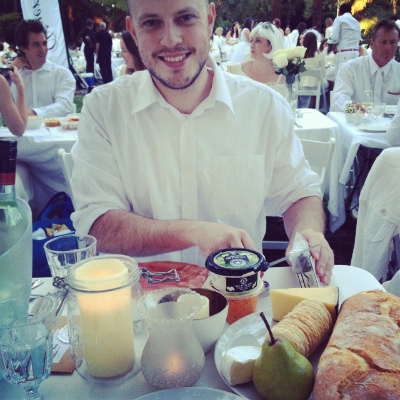 via my Instagram – I'm @EatRunWrite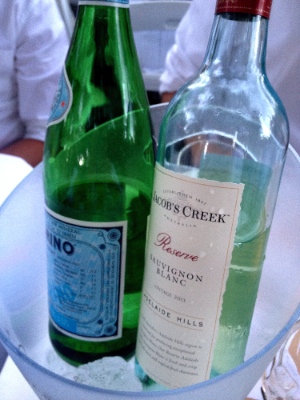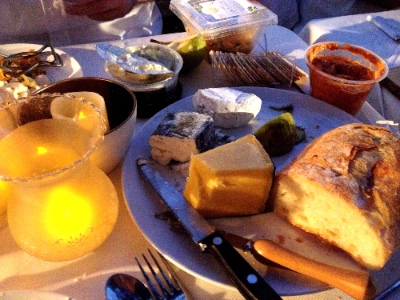 The dinner officially launched around 7 30pm with the traditional napkin wave; I loved seeing 750 white linen napkins twirling in the air as the chatter began and a band played background music.
Aside from the official opening of the evening, there was only one other formal part of the night: the sparkler wave. Every person got a sparkler, and after most people finished their main course, we all lit our own and waved them in the night air. It was beautiful and such a great way to mark the evening.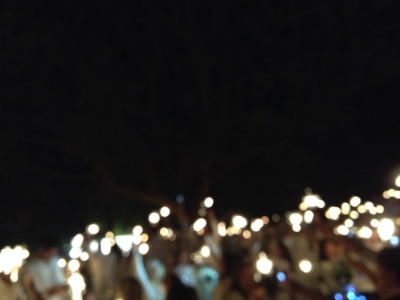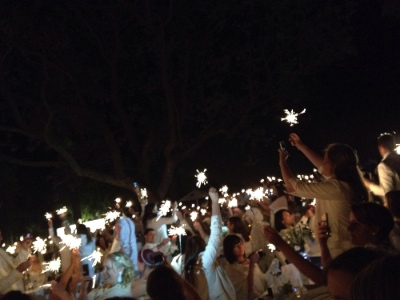 Max and I loved making friends with the people seated around us, but our favourite part of the night hands down was dancing! The ban, The Attack, was absolutely amazing. They played classics and modern hits (even a rendition of 'Single Ladies', which I didn't know a band could cover so well!). The lead singer was obviously quite pregnant, but she had so much energy and enthusiasm- it really blew me away! Max and I loved dancing to The Attack so much that we are going to enquire with them about playing at our wedding! Check out this packed dance floor: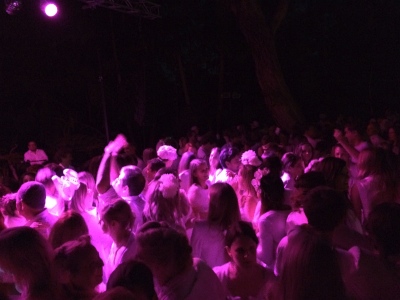 At the end of the night we were hot, sweaty, all danced out and a little tipsy, but we piled back onto our bus without a hitch, bundling up grass-stained chair covers, dirty linen napkins, and our table and chairs. It was such a fun, unique night. I loved it, Max loved it, we made new friends, and we found a potential wedding band….Adelaide Diner en Blanc, you more than delivered!
Note: Just a warning, if you want to go to Diner en Blanc in your city, be prepared to pay! Our tickets to the event (which included bus transfer) plus our membership fees totalled $88.00. The two bottles of wine that we pre-ordered were $25 each (you could not BYO alcohol due to licensing). We bought a folding card table for $15, a white tablecloth for $10 (both from Kmart), two chair covers (as our chairs weren't white) for $20, plus ice and food to bring with us for the evening. Last but not least, we both bought white clothes (a dress, cardigan and shoes for me and pants, a shirt, a sweater and shoes for Max) as we didn't really own any all-white outfits. The night was fabulous, and I will go again next year, but I just thought I should warn you that it can get pricey!